NEWS
Lucas Grabeel of Switched at Birth Talks Spoilers—And His New Music with Fellow High School Musical Alums!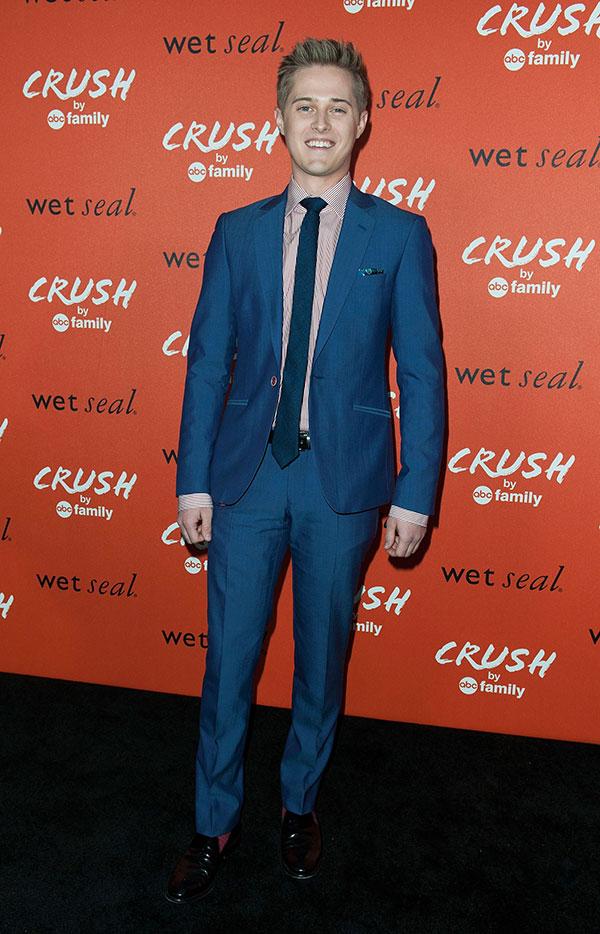 Article continues below advertisement
OK!: Switched at Birth is back! What do you typically do when the show is on hiatus?
Lucas Grabeel: First of all, I try to get more work! The actor's life, always trying to do another job. I try to do anything artsy, I'm always painting or drawing. I also like to cook, play music, write songs. I keep myself busy with little projects.
OK!: Where did we leave your character off last season?
LG: At the end of season two, the big question was if Toby and Nikki were actually going to get married. The parents of both of us were not happy about the union, and thinking we were too young and all this. We ended up calling off the wedding, so everyone thought they were off the hook, then we went to the courthouse and eloped. Nikki and I are married, officially.
OK!: What spoilers can you give us for the beginning of this season?
LG: Sadly, Nikki, at the end of the summer, which is one of the catalysts for us getting married so quickly, was going to Peru. She is in Peru, at the beginning of the third season, and I'm sad and getting lonely. I start to help out Carlton by coaching their field hockey team, to keep my mind busy and get all the girls together.
OK!: Where would you love the character to go this season?
Article continues below advertisement
LG: He's taking on a lot of different tasks, with the coaching thing, and taking a break from his music. And I've always pulled for him to really follow his passion of music. He seems so at home with that, it's the right place for him.
Watch: Zac Efron discusses getting famous from High School Musical.
OK!: I was so excited to hear about your new single! When did you decide to pursue music more seriously?
LG: It's always been a plan of mine. I was always worried that I would take away from the time and effort I put into my acting career. When I finished High School Musical, two of my choreographers, Chuckly Klapow and Bonnie Story are dear friends of mine. I really wanted to work with them again, so I thought I'm going to write a song just so I can do a music video. I brought them back, and some of the dancers from High School Musical, and even crew members, and friends I've made short films with over the years, to push ourselves to create something creative. It came together and I'm really excited about it.
MORE ON:
Switched At Birth
Article continues below advertisement
OK!: Can you describe what the sound is?
LG: It's very lounge-y dance track. It's got a good groove to it. It has a retro sound and feel at parts. I wrote it on my grandmother's 1980-something Casio keyboard, and used an old beat machine, and took it to my friend Nate Bosley, who I've worked with before on High School Musical 2. I had the lyrics and melody and bass part written, and I fleshed out the rest of it to create this groovy vibe.
OK!: Can you please explain this song name "135n8"?
LG: It's all inspired by dance, and "135n8" is meant to create a signature dance move. I knew Chucky and Bonnie were the people to do that. They are so talented. A lot of times when you're a dancer, they say, 'Take it from the top, 5,6,7,8," the beats of the song. So, "135n8," that's the beats of the song. There's a girl dancing on the 1,3,5 and 8, and that's what entices me to dance with her. So we created a dance move.
Article continues below advertisement
OK! News: Listen to the first single from Pretty Little Liars star Lucy Hale.
OK!: And the music video is self produced. What does that mean?
LG: I got my friends together, I called in favors, I footed the bill. Just made it, all on my own—well, I had help from so many people! Because I'm not going to avidly pursue a very strong career in music, and dive in head first with that, I've got to release it myself and not have a record deal. Which is not to say there won't be more music coming in the near future! I have plans for an EP and new videos and surprises. This is to jump start everything and let people know where I'm at since High School Musical.
OK!: What's the most embarrassing item in your closet?
LG: A few things. My quick answer is my High School Musical hoodie, which I only wear around the house. laughs When I'm feeling down, and need a boost, I just put on my High School Musical Wildcats hoodie. I also have a pair of pants I got when I was 16, and they're canary yellow. I bought them for an '80s day that we had at school, and I still have them for some weird reason. And every once in a blue moon, I find a reason to wear them.
OK!: How about your go-to snack?
LG: I make a mean salad. They're never the same. At least 5 or 6 kinds of vegetables. Green not necessary, mainly just vegetables all chopped up, some fruit, olive oil.
OK!: What is a movie you watch every time it's on TV?
LG: Waiting for Guffman. It's not on TV all that often. I have four copies of it, because I'm constantly loaning it out to so many people because it's something I want to spread around. Especially working on a set—not only because I'm from Missouri, I just think every actor should see it. It's not so inside that you have to work in the industry to get it. It's just a silly thing.
Are you excited for the return of Switched at Birth? What do you hope happens to Toby this season? Would you like to hear music from Lucas? Tell us in the comments below or tweet us @OKMagazine.