NEWS
Marc Anthony's Motto? "One Day at a Time"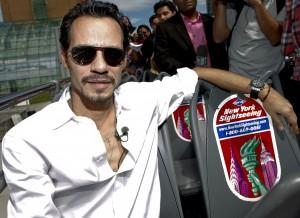 Although Marc Anthony's five children were missing when he was honored today at Gray Line New York's Ride of Fame event, his brother Bigram Zayas was front and center to support him.
"I'm overwhelmed," the NYC-born singer, 42, says of getting his likeness on a double-decker tour bus. "It's one of those things that you can't help but think 'I must've done something right in following my dreams.'"
Still, his twins, Emme and Max, 3, with estranged wife Jennifer Lopez, and three children from his previous relationships - Cristian, 10, and Ryan, 8, with ex-wife Dayanara Torres, and teenage daughter Ariana, with ex-girlfriend Debbie Rosado - were top of mind.
Article continues below advertisement
When asked about how he feels about speaking out to ABC News about his July split from J.Lo after seven years of marriage, he pauses.
"I'm great," he says. "Everybody's great. The kids are great."
For Marc, balancing fatherhood and career comes naturally.
"Just one day at a time," he says, before changing the subject. "I mean, I understand - and I brought a little sun to the city. Y'all brought a little sun to the city. It's the perfect day for it."
He continues, "It's just like anything else. It's not something that I'm figuring out, it's something that's been a big part of my life – work and what I do."
Creating special moments with his kids comes just as easily.
"One day at a time, right? First, you have to recognize how important it is, and then you just do it. We all have the power to do it and get it done on many levels, so that's something you have to concentrate on, and actually do something about it, right?"