NEWS
Margaret Cho on Bristol Palin Comments: "I'm Not Going to Retract What I Said"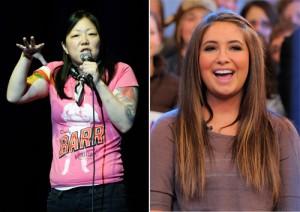 First Margaret Cho claimed on her blog that Bristol Palin was forced to be on Dancing With the Stars by her mother Sarah Palin. Then Bristol took to her Facebook page and said Margaret doesn't understand politics. Now Margaret spoke to Access Hollywood and said she's "not going to retract" what she said. It official: They're at war!
OK! NEWS: BRISTOL PALIN TO MARGARET CHO — "MY MOM DIDN'T 'FORCE' ME TO GO ON DWTS"
Article continues below advertisement
"I had a lot of time to gossip because I wasn't dancing, because I got voted off real early," Margaret explained to Access Hollywood Live show about the blog post she wrote about Bristol and Sarah.
"I didn't know if it was true, I was just reporting on stuff that I was gossiping about," she said. "I just wanted to say what I thought and mostly I just wanted to say that I was upset because people were criticizing her because of her body, because I felt that before and I hated that when it happened to me. So, I wanted to say, 'She's not fat she's a beautiful girl!' "
"She was great, what she was doing, and she did her best," Margaret added. "But, you know, there were other things at work, and if Sarah Palin is trying to run for President, I wish she would just admit it, because I want to stop it."
OK! GALLERY: DWTS CONTESTANTS HAM IT UP ON THE RED CARPET
Bristol responded to Margaret's blog on her Facebook and after she "set the record straight" saying her mother didn't "force" her to be on DWTS, she concluded with a dig back at Margaret.
Article continues below advertisement
"If you ever have a question, call me, girlfriend… You say you 'don't agree with the family's politics at all' but I say, if you understood that common sense conservative values supports the right of individuals like you, like all of us… you would embrace us faster than KD Lang at an Indigo Girls concert," Bristol wrote.
"Which is good, cuz I'm trying to ask KD Lang out for a date," Margaret reacted to that passage to Access. "The way that the statement was written, it also sounds like it was written by somebody in Nigeria who has a lot money for me."
OK! NEWS: BRISTOL PALIN — "I FEEL GOOD ABOUT MYSELF"
But seriously, Margaret says she doesn't have any bad feelings towards Bristol.
"I like her, I'm a supporter of Bristol," she explained. "I'm not a supporter of their family's politics, but I think she's a cool person."
But that doesn't mean she's sorry for what she said!
"I'm a stand-up comic. I'm here to just talk about what I think and what I'm seeing," she said. "To me, it was just funny. I can't believe the incredible reaction to it."
Article continues below advertisement
"But even ABC was like, 'You're going to go on Access Hollywood? Well, that's a perfect opportunity for you to set the record straight and retract what you said," Margaret said. "And it's like, 'I'm not going to retract what I said,' it's like, 'What? Are you going to vote me off again?"
OK! NEWS: DANCING WITH THE STARS WINNERS PERFORM ON GOOD MORNING AMERICA
"I didn't know if it was true, and I didn't care," she concluded about her post. "It's just gossip, I'm just reporting on the gossip."
Do you agree with Margaret?