NEWS
Mariah Carey, John Mayer save the music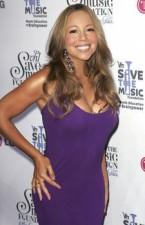 Mariah Carey is the belle of the ball at VH1's Save The Music 10th Anniversary Gala, and she gifts each reporter with a bottle of her new perfume, M By Mariah Carey.
The comeback diva arrives in a white limousine, as flashbulbs pop and photographers scurry across the lawn outside NYC's Lincoln Center. Mariah, clad in a stunning purple gown, sails into the crowd of fans gathered outside to sign a few autographs. So sweet!
Article continues below advertisement
She greets Babyface with a kiss as she swans down the red carpet.
"I feel like this night is important for children and parents because music actually does help children learn," she says. "It's scientifically proven. When schools start cutting programs, it's very disheartening."
Reporters are primed to ask only two questions – one about her forthcoming album and one about her perfume, but Miss Carey "goes there" when subjects veer off topic.
Her eleventh album is due in December, according to L.A. Reid, but his lips are sealed on the title, which should be revealed in a week. He says 'let me ask her' and interrupts Mariah – whom he calls MC -- when she's taping a TV interview.
When asked about collaborators, she gives a playful nod to the tale that another monstrously successful singer stole songs intended for Glitter years back. "I can't give them away, though, because then the next thing you know, so-and-so will have them on their album," she says with a wink.
Article continues below advertisement
Earlier in the evening, John Mayer answers in weird hand signals when asked for tips about staying friends with an ex, and trippingly calls out Aunt Jemima as his love interest. "I can't wait to go home and get me some flapjacks," he says. Bizarre!
James Blunt ruffles when asked about a forthcoming story that he did ecstacy with a Rolling Stone reporter. Why, he'd prefer to chat about wars, global warming, climate change, poverty and disease.
Awkward alert! Vanessa Carlton coolly smoothes it over when asked about her long-term relationship with Third Eye Blind's Stephen Jenkins, who worked on her new album Heroes and Thieves, due October 9. "Just friends," these days, she says.
Katie Lee Joel, the wife of Billy Joel, tells me her favorite afterschool activity is snack time. "I liked apples with peanut butter and raisins," she says.
What's Mya's best school memory? "Miss Oswald, my English teacher, had a session at the end of classroom, and allowed us to do whatever we wanted to do," she tells me. "I got up and tap-danced. It was in a temporary building, so everything shook."
What advice would Maria Menounos give to her sixth grade self? "I wouldn't say anything," she tells me. "It all worked out perfect."
As I head out, I open Mariah's M -- and I like it. Scent-sational!