NEWS
Martha Stewart: Paul Newman is "Fine"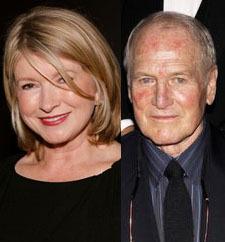 Despite that Paul Newman battling lung cancer, Martha Stewart says the actor is "fine."
"He was fine. He was fine," she tells Extra. "He's 83 years old and hes a phenomenal creature. I mean, my God. He's still racing cars."
The cancer talk started last month after Paul pulled out of a stage production citing an undisclosed illness and days later showed up looking gaunt in a photo on Martha's blog. But while many were shocked at the Oscar winner's frail state, Martha wasn't one of them.
Article continues below advertisement
"There was a big uproar because a lot of people haven't seen him, I guess," she says.
Paul's longtime friend A.E. Hotchner later told the AP that the legendary star did have cancer, but has since stated that he was misquoted. Whatever the case is, both A.E. and Martha do agree on one thing -- Paul is still living life.
"He is non-stop and he was just as lively and enthusiastic about everything he does," Martha says.