NEWS
Meet the 'New Moon' Volturi Vampires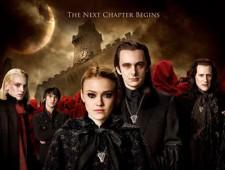 New to New Moon are the Volturi vampires. If you haven't read the Twilight Saga books or want to learn more about the actors who play the Volturi in New Moon, don't worry — OK!'s got you covered!
The Volturi are the coven of vampires that enforce the laws of the vampire world from the city of Volterra, Italy. They act as guardians to keep vampires hidden from humans and invite other vampires to join their coven with powerful gifts.
Article continues below advertisement
Michael Sheen: Aro
Volturi: One of three leaders of the Volturi. He possesses the gift of tactile telepathy where he can get all the thoughts a person has ever had with one touch.
Human: Michael is from Newport, Wales and is best known for his roles in Frost/Nixon, The Deal and The Queen. He starred opposite Heath Ledger, Wes Bently and Kate Hudson in Four Feathers and opposite Kate Beckinsale in Underworld. Kate was his former long time girlfriend and they have a daughter together, Lily Mo Sheen.
Volturi Quote: "If I hadn't smelled her through your memories, I wouldn't have believed the call of anyone's blood could be so strong. I've never felt anything like it myself. Most of us would trade much for such a gift, and yet you…"
Human Quote: Michael Sheen told the LA Times that his 10-year-old daughter Lily introduced him to the Twilight books and doesn't want to disappoint her. "People have such passionate feelings about the books as I know through my daughter — there's nothing more terrifying in some ways than the passions of teenage girls."
Article continues below advertisement
Christopher Heyerdahl: Marcus
Volturi: Marcus is the most detached of the Volturi leaders. He has the ability to recognize relationships and is surprised by the intensity of the relationship between Edward and Bella.
Human: Canadian actor Christopher Heyerdahl has had roles in many popular TV shows including: Supernatural, Smallville and Are You Afraid of the Dark? He is also a gifted hockey player.
Volturi Quote: "You already know what you'll do, Aro."
Human Quote: Christopher told Sci Fi Wire that being a vampire "was very complex to play, especially when you are doing it with so few lines. It will be interesting to see how it is cut together."
Jamie Campbell Bower: Caius
Volturi: Insists Bella can not leave Italy alive and identified as the cruelest of the three leaders. He does not have any special vampire skills.
Human: Jamie is from London and also stars in Harry Potter and the Deathly Hallows parts 1 and 2 as Gellert Grindelwald.
Article continues below advertisement
Volturi Quote: "If she betrays our secrets, are you prepared to destroy her? I think not."
Human Quote: Jamie dished on the nude scene in New Moon to MTV.com that,"We just all sit there, completely naked, for one scene."
Guard Members
Daniel Cudmore: Felix
Volturi: Described as "very big, tall and thick" in the book, but his motivations are unclear. He is not a gifted vampire.
Human: Canadian actor Daniel Cudmore starred in X-Men: The Last Stand and X2. He's a big athlete and grew up playing football.
Human Quote: "He did a lot of it. He was game for it," Daniel told the Examiner of his fight seen with Robert Pattinson. "I remember when he first came in saying, 'I can't do this stuff, I'm kind of clumsy, I don't know if I'll be able to do it,' and he started really trying it and was getting it right away."
Dakota Fanning: Jane
Volturi: The twin sister of Alec and has the same ability as him to take down an opponent regardless of their size. Jane can also inflict an illusion of burning pain.
Article continues below advertisement
Human: Dakota has starred in many films even for her young age including: I Am Sam, Uptown Girls,  War of the Worlds, Man on Fire and many others.
Volturi Quote: "This may hurt just a little."
Human Quote: Dakota told Teen Vogue told teen vogue that her red contacts helped her get into character, but her friendship with Kristen Stewart made scenes difficult. "I've never been such an evil character, and because I do know Kristen so well, being mean to her was really weird. It's like, 'Sorry, dude!' "
Cameron Bright: Alec
Volturi: Alec is one of the highest ranked guards and is twin brother to Jane. They both have the ability to take down an opponent regardless of their size and Alec can also cut a person's senses off.
Human: Canadian actor Cameron Bright starred in Thank You for Smoking, X-Men: The Last Stand and An American Affair.
Volturi Quote: "They send you out for one and you bring back two and a half. Such a clever girl."
Article continues below advertisement
Human Quote: "All I know is one of my friends is like, 'You're one of the strongest, and you're one of the meanest,'" Cameron told MSN movies. I'm fine with that! Everybody likes the guy to hate!
Charlie Bewley: Demetri
Volturi: He has a tracking sense and is known as the greatest tracker in the world.
Human: We don't know much about this actor just yet, but we definitely will be hearing more after the release of New Moon.
Human Quote: "There is a scene in New Moon where our "food" is brought into the dining room — the 'food' being, as the books state, a bunch of well-fed American tourists who have come to appreciate Volterra," Charlie told the Examiner. "I would say the more vicious aspect of our characters, whereby we go in and absolutely rip these guys to shreds in the most primal, vicious, aggressive fashion."
Article continues below advertisement
Volturi: Heidi is known as a "fisher" and "bait." She brings in impressionable humans for the Volturi to dine on.
Human: Canadian model Noot Seear has appeared in campaigns for Armani, Polo Jeans, Chanel and Calvin Klein.
Human Quote: "I read them on airplanes. I think there's something about flying that heightens emotion, because I was literally crying the whole way through each of those books," Noot told Style.com. "Flying and crying. I'm sure people thought I was crazy."
Justine Wachsberger: Gianna
Volturi: The human secretary to the Volturi and hopes to one day join them.
Human: L.A. born actress Justine Wachsberger has starred in First Daughter and Sorority Row.
Human Quote: "Gianna was a really interesting character to portray for me. She's human and has a lot going for her but decides to work for the vampires," Justine told Dread Central. "You don't really know much about her motivations and that adds a lot of mystery to her, which I really loved."