NEWS
Metallica Lead Singer James Hetfield Releases New PSA to Help FBI Capture Fan's Killer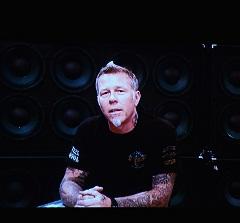 Metallica is not giving up on finding the killer of one of their fans.
Morgan Harrington was last seen alive at a Metallica concert in Charlottesville, Va., in October 2009. A massive search was launched for the 20-year-old Virginia Tech student, which was immediately backed by the band. Three months later, Morgan's remains were found in a remote field about 10 miles from the concert venue.
Article continues below advertisement
"Remember, any information — no matter how small you might think it is — could be that crucial piece investigators need to help solve the case," lead singer James Hetfield says in a new PSA.
OK! NEWS: LOU REED AND METALLICA TO MAKE AN ALBUM TOGETHER
It is believed that Morgan became separated from her friends when she left the John Paul Jones Arena (friends believe she stepped out for a cigarette) and was denied access back inside. The FBI recently released a revised sketch of their primary suspect, who is connected to a 2005 sexual assault case in Fairfax City, Va., two hours north of where Morgan went missing.
The Harrington family is offering a $100,000 reward for information leading to an arrest in the case. Metallica has offered an additional $50,000, bringing the total up to $150,000.
"To have abduction, rape and murder of your child is an obscenity. It is an abomination," Morgan's mother, Gil Harrington, told AP. "The band reacted to that right away. It was a matter of days before James Hetfield was on the phone to Morgan's father saying, 'As a father, I am outraged.'"
MORE ON:
morgan harrington