NEWS
Michael Lohan on Lindsay: "I'll Go to the Jail Everyday She's There"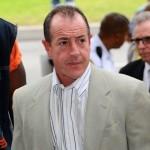 Article continues below advertisement
"It's heartbreaking not only to see Lindsay in that position, but my daughter Ali took it quite, in a very, very hard way," he explained.
Lindsay's father believes the sentence would be fair for someone who wasn't on drugs, but not for his daughter.
"If this was a person that was in their right state of mind and wasn't on drugs and acted that way, and defied the court and carved that into their finger nails, yea," he said, "They deserve everything they can get."
Article continues below advertisement
So Michael plans on appealing Lindsay's case.
"We're going to be working with Shawn Chapman Holley to hopefully put in an appeal on Lindsay's behalf," he announced.
OK! NEWS: LINDSAY LOHAN'S THOUGHTS ON JAIL TIME? "EEEKS"
Until then, Michael will continue to support his dauhghter, whether she likes it or not.
"I'm here for her, I'll go to the jail everyday that she's there," he said. "Hopefully she'll let me visit her. If not, I'll write letters to her, and I'll be there for her."
But earlier this week, Lindsay Tweeted, "I don't want my ex-father anywhere near me no matter where I am. He is crazy and scares me."
So it sounds like she may opt for letters rather than personal visits!