NEWS
Miley Comes Out of Hiding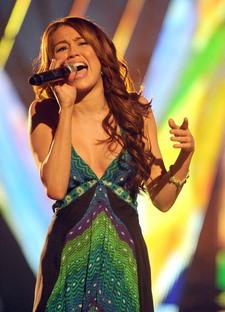 It's been a long week for Miley Cyrus, who has faced a storm of controversy since somewhat revealing photos of the teen star were published in the most recent edition of Vanity Fair. So it was with much anticipation among her fans that the Hannah Montana star took the stage Saturday night at the Disney Channel Games Concert in Orlando.
"First of all, all of us can say thank you," Miley said to the crowd. "I don't know how many would stand out in the rain to see us. I wanted to be here to compete but I was in Nashville filming my movie Hannah Montana."
Article continues below advertisement
To her fans, Miley said, "I love you — You're the best fans on the world. We only get to do what we do because of you. I hope you guys have an awesome time at the Disney Channel Games Concert."
Miley, who backed out of the May 2 media event for the games, performed a handful of tunes, including "See You Again" and two songs from her upcoming album, due out July 22, "Fly on the Wall" and "Breakout." The 15-year-old actually had to re-do "Fly on the Wall" after the audience was unable to hear the lyrics during the concert that will air on the Disney Channel in July.
After Miley spotted a sign in the crowd reading, "Miley I'm praying for you," she said to the fan holding the sign, "Thank you. I couldn't be more appreciative of that."
By Valerie Nome