NEWS
Oops! Miley Cyrus Reveals Dad Billy Ray Cyrus Caused Her To Suffer A Head Injury After Dirt Bike Accident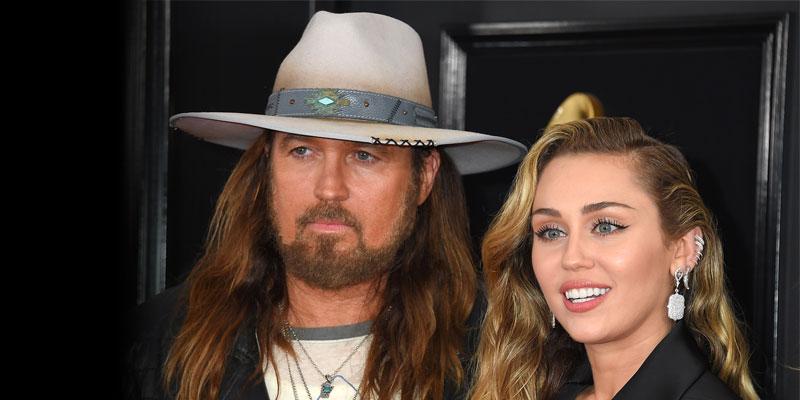 Whoops! Miley Cyrus revealed that her dad, Billy Ray Cyrus, is responsible for taking her on a ride when she was two years old, and as a result, she suffered a head injury from the incident. "It's bad. My dad had me — this is really bad, but he can't go to jail, I don't think, because it's a long enough time away. He had me in a baby backpack and I was on a dirt bike with my dad," she said on the Joe Rogan Experience podcast on Wednesday, September 2. "And he was riding, and a tree had fallen, and he ducked, I didn't, and I hit my head on the tree."
Article continues below advertisement
Luckily, the 27-year-old pop star is doing fine these days, but she and her therapist, Dr. Amen, believe that the injury is a vital part of who she is and had a lasting impact on her life. "Maybe it knocked me into this identity, or something," she shared. "He knows that there's something to that. Dr. Amen, we've talked about that a lot. So when I get really overwhelmed … I also have a tendency, when I know something's really stupid, I just gotta try it, to know that it's stupid, which makes it stupid, 'cause I already knew about it." 
THE DATING HISTORY OF MILEY CYRUS: FAMOUS EXES CODY SIMPSON, LIAM HEMSWORTH AND MORE PHOTOS
"Sometimes I'm like, is it better to know it's dumb and do it? Or not know it's dumb and do it? That's the head injury," she said.  
Aside from the incident, the 'Midnight Sky' songstress — who acted alongside Billy Ray in the Disney Channel hit Hannah Montana, which aired from 2006 to 2011 — continued to gush over the strong bond she has with her father. "It's been really good to have my dad to go before me, it's kinda the buddy system," she dished. "I think it would have been really scary if I hadn't seen that example." 
Article continues below advertisement
The Disney darling also shared some positive stories about her father, including when he helped her steal chickens from a barn and then her dogs killed them all or how Miley got him a custom "five-foot pizza" with her face on the box for his most recent birthday. 
Throughout the interview, the Grammy nominee got candid about plenty of other subjects — a.k.a. sobriety and her divorce from ex Liam Hemsworth, which she said: "f--king sucked." 
WE CAN'T STOP, WON'T STOP LOOKING AT MILEY CYRUS' CRAZIEST OUTFITS OVER THE YEARS
After Cyrus had to undergo vocal chord surgery, the singer revealed she is now "sober" and "learned so much about all the effects." 
"I started touring at probably 12 or 13," she added. "The adrenaline that you have after a show, it's not really the singing that affects your voice as much. It's afterward, you're totally on and it's really hard to get that sleep. You stay up, talking all night. Later, the talking all night turned into smoking all night."
Article continues below advertisement
However, the Tennessee native insisted she isn't trying to practice when she preaches. "It's just really a personal preference," she said. "I think everyone should experiment. … You learn a lot about yourself and the people around you." 
BONDED FOR LIFE! CELEBRITIES WITH MATCHING TATTOOS PHOTOS
The LOL star also explained that she has "some genetic family history of alcohol," but "that totally gets erased when you're a celebrity." Cyrus made it clear that being an A-lister in Tinseltown didn't pressure her to take drugs or drink alcohol, it's "like, no dude, my great-grandma was an alcoholic, my grandad was an alcoholic, my grandma was an alcoholic. … It wasn't Hollywood, it's genetic."
At the end of the day, Cyrus seems to be in a great spot, so it's safe to say worked out for the best.