NEWS
Naomi Campbell And Zoe Saldana Defend Adele Amid Cultural Appropriation Accusations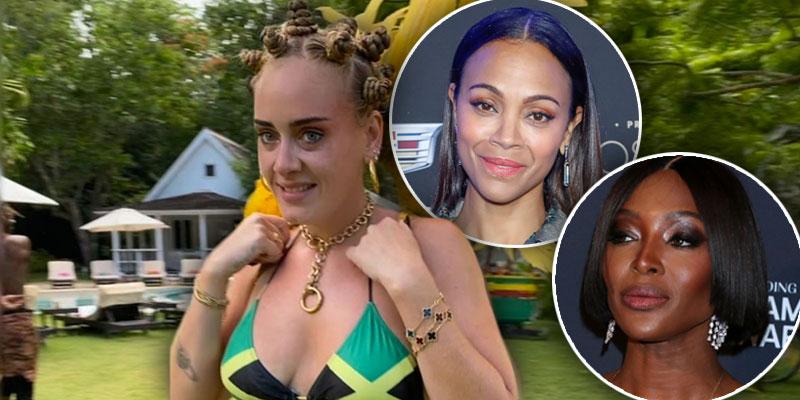 After Adele's stunning Instagram post paying tribute to what would have been the Notting Hill Carnival in London, if it weren't for the coronavirus pandemic, the Grammy winner faced harsh backlash for cultural appropriation.
The UK native posted a snap of her rocking a Jamaican bikini top, tie-dye bottoms with a yellow feathered headpiece and her hair in Bantu knots with the caption, "Happy what would be Notting Hill Carnival my beloved London."
Article continues below advertisement
Fans, however, did not find her post amusing but rather mocking and 'insensitive' as they commented, "No sis.... we love you but don't appropriate people's culture." Another wrote "This hair is totally unnecessary. Stop appropriating Black culture. Bantu knots are not for you. Period."
TRANSFORMED ADELE SHARES THE SELF-HELP BOOK THAT HELPED HER FIND LOVE
Adele, taking the situation lightly, jokingly commented on singers' Brandy and Monica's Verzuz Live on Instagram Monday night, the Jamaican greeting "Wah Gwaan! Yow gyal, yuh look good enuh," which means "What's up? You look good girl."
Despite the harsh criticism from fans, stars quickly came to the Tottenham native's defense. Supermodel Naomi Campbell commented a pattern of the heart emoji followed by the Jamaican flag- the model's mother also commented on Adele's snap with hearts and the Jamaican flag- and the Guardians of the Galaxy actress Zoe Saldana commented, "you look right at home guurrrl." Jamaican music star Popcaan responded with supportive fist and heart emojis.
Article continues below advertisement
Singer Alexandra Burke said, "I see the pic. She looks hot. She's obviously been working on her body, that for me is a big deal. She's looking good. As a Jamaican girl myself, my girl has grown up in black culture. People forget she's from Tottenham. She probably eats jerk chicken all the time like all of us. All I'm saying is the girl looked good, leave her. Allow her, man."
"If Popcaan is going to endorse it and say yes my girl you're wearing the flag and you're wearing it well," Burke, 32, continued. "Let her live her best life, leave her alone. We love Adele."
David Lemmy, Tottenham's Labour MP, also took to the mother-ofone's defense: "This humbug totally misses the spirit of Notting Hill Carnival and the tradition of 'dress up' or 'masquerade,'" he said. "Adele was born and raised in Tottenham, she gets it more than most. Thank you Adele. Forget the Haters."
On Good Morning Britain Monday, August 31, Piers Morgan slammed the haters calling their cultural appropriation claims "absolute guff," as he explained: "I think cultural appropriation is guff. She's paying tribute. She's celebrating Jamaican culture."
While Adele has since spoken out about the cultural appropriation backlash, she is spending time in Los Angeles working on her new album and focusing on her health.