NEWS
Adele Seemingly Pokes Fun At Controversial Instagram Post, Writes Jamaican Greeting On Instagram Live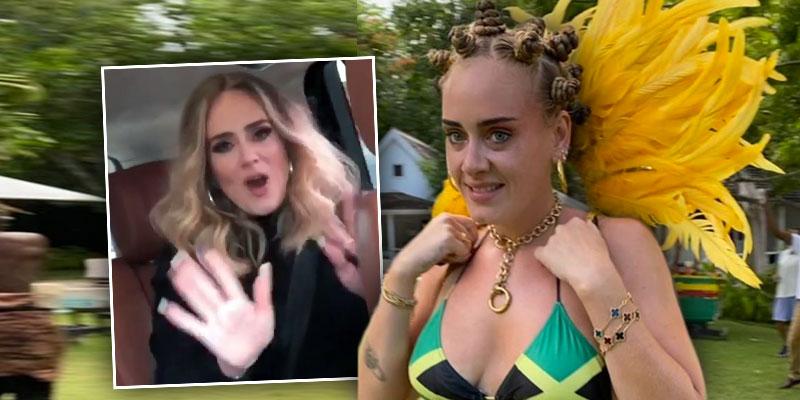 Adele seemingly poked fun at her controversial Instagram post, where fans accused her of cultural appropriation after she wore a Jamaican bathing suit and Bantu knots in honor of the Notting Hill Carnival — a festival which celebrates Caribbean culture.
During an Instagram Live with singers Brandy and Monica, the singer, 32, wrote a Jamaican greeting. "Wah Gwaan! Yow gyal, yuh look good enuh," she allegedly wrote, which translates to, "What's up? You look good, girl." In a screenshot obtained by The Sun, it looked like Adele posted it, but some fans are choosing to believe it's photoshopped.
Article continues below advertisement
TRANSFORMED ADELE SHARES THE SELF-HELP BOOK THAT HELPED HER FIND LOVE
On August 30, the Grammy winner posted the picture — which showed off her amazing weight loss — of herself celebrating the canceled festival. In the snap, Adele wore tie-dye leggings with a tiny bikini top with the Jamaican flag and a gold necklace. On top of that, Adele sported Bantu knots along with yellow feathers.
"Happy what would be Notting Hill Carnival my beloved London 
," she captioned the snapshot.
Fans, however, felt she was being "insensitive" by wearing the hairstyle. One follower wrote, "Unfollowing tonight. Please note that I'm from London. While it may appear cute to some, to show this type of appreciation, it's not," while another echoed, "Adele dropped that weight and said it's time for her cultural appropriation era."
Article continues below advertisement
A third person added, "If 2020 couldn't get anymore bizarre, Adele gives us Bantu knots and cultural appropriation that nobody asked for. This officially marks all of the top white women in pop as problematic. Hate to see it."
Another fam was fuming, writing, "Many Black and Latina ladies have been denied/fired from jobs and young children sent home from school with hairstyles like this. This has happened in the U.K., the U.S. and other countries abroad. I'm not a fan."
The 'Rolling in the Deep' songstress has yet to make an official comment about the controversial situation. The hitmaker has been working on her newest album in Los Angeles while continuing to focus on her health and fitness.
ADELE SHOWS OFF HER SVELTE FIGURE IN SEXY LEOPARD PRINT DRESS
The U.K. native — who shares son Angelo, 7, with ex Simon Knoecki, 46 — hasn't been shy about showing off her new physique. On August 1, Adele posted a photo of herself with Beyoncé on the television screen, writing, "Thank you Queen for always making us all feel so loved through your art."
Prior to that, the blonde beauty showed off her hot bod in a tight black dress in honor of her birthday. "Thank you for the birthday love," she said. "I hope you're all staying safe and sane during this crazy time. I'd like to thank all of our first responders and essential workers who are keeping us safe while risking their lives! You are truly our angels. 2020 okay bye thanks x."