NEWS
Nicole Scherzinger Sweats Over Derek Hough's Birthday Gift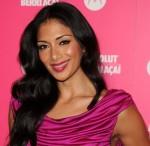 Nicole Scherzinger gave her Dancing With the Stars partner Derek Hough a gag gift for his 25th birthday on Monday.
The singer told reporters after the pair got 59 out of 60 points for their two strong dances that she'd given Derek a hand towel with the phrase "Sweet Sweat" written on it.
DEREK HOUGH'S DWTS BLOG: PERFECT SCORE IN THE PASO DOBLE
Why? Because "He sweats like a water park!" Nicole explained about her hard-working dance partner, who has taken her to the show's semi-finals. Nicole laughed that it was a "lavish" gift: "I'm talking, like 20, 30 bucks."
Article continues below advertisement
Derek took the funny present in stride. "She gave me other things, too, but that was definitely a really sweet gift.
DWTS WATCH: NICOLE SCHERZINGER & DEREK HOUGH WIN AGAIN
"Honestly, it's weird, as you get older, you don't ask for anything for your birthday other than being around people that you love and living life so I'm happy," the longtime DWTS pro and this season's OK! blogger said. "My family's in town."
MORE ON:
Nicole Scherzinger
And of course, he also had his DWTS family around him to mark his special day on May 17: "I've never been wished happy birthday so many times in my entire life," he said.
DEREK HOUGH'S DWTS BLOG: WALTZING TO A HIGH SCORE
Nicole joked, "His life's so much better now that I'm in it!"