NEWS
Obama's Humorous Speech Gets Some Love From 'Daily Show' Writers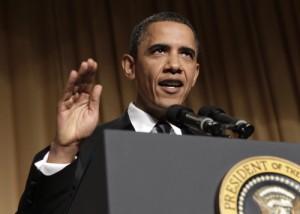 Hollywood's been buzzing about President Barack Obama's humorous speech Saturday night at the White House Correspondents' Dinner. The President's speech was full of solid jokes and current jabs — Kim Kardashian even Tweeted how funny Obama was! So did Obama have some help with his humor?
Yes. According to PopEater, his speechwriters had some help from Jon Stewart's crew.
Lloyd Grove of the Daily Beast revealed that members of The Daily Show staff offered their opinions on he speech.
Article continues below advertisement
Check out some highlights of President Obama's humorous speech, (via PopEater), where he cracks jokes about the decline of his approval ratings, Jay Leno and the Jonas Brothers.
OK! VIDEO: BARACK OBAMA GETS COMEDIC WITH JAY LENO
"Obviously, I'm most pleased that Michelle accompanied me. She doesn't always go to these things. And there are few things in life that are harder to find and more important to keep than love — well, love and a birth certificate."
"It's been quite a year... lots of ups, lots of downs. Except for my approval ratings, which have just gone down. But that's politics, it doesn't bother me. Besides, I happen to know my approval ratings are still very high in the country of my birth."
OK! NEWS: CORY MONTEITH MORE NERVOUS TO MEET OPRAH THAN PRESIDENT
"The Jonas Brothers are here... Sasha and Malia are huge fans. But, boys, don't get any ideas. I have two words for you — predator drones. You will never see it coming. You think I'm joking."
Article continues below advertisement
Obama couldn't let Jay, who headlined the festivities, escape his speech unscathed and poked fun at the Tonight Show host saying he is "the only person whose ratings fell more than mine."
OK! NEWS: KAL PENN LEAVES WHITE HOUSE TO FILM HAROLD & KUMAR 3
"I'm also glad I'm speaking first, because we've all seen what happens when somebody takes the time slot after Leno's," he added.
Among the 3,000 guests attending the annual gala were Chevy Chase, Alec Baldwin, Michelle Pfeiffer, Dennis Quaid, the Jonas Brothers, Justin Bieber, Jessica Simpson, Kim Kardashian, Michael Douglas and Steven Spielberg.