NEWS
An Ode to All the Random Smaller Characters on 'The Office'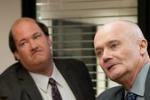 The series finale of The Office airs tonight! Please let your boss know that you're excused from work today, as the next few hours should be spent watching old clips of the show on YouTube, and crying out of sadness and also because you're laughing so hard.
Watch: The cast of The Office gives a tearful goodbye!
Real fans of know that the best part of this show is actually all the smaller characters, of which there are so many! When you've been watching for years, you appreciate the tiny idiosyncrasies of the smaller people and notice their quirks. Here are just a few of the best!
Article continues below advertisement
Angela was the uptight cat lady who eventually was caught sleeping with the show's biggest freaskshow, Dwight. This clip of her throwing a cat into the ceiling is one of the funniest things I've ever seen on TV.
Stanley was the curmudgeon who didn't feel like working ever, and would prefer to spend his time with his crossword puzzles. In this clip from a recent episode, Dwight drugs him and throws his lifeless body down the stairs. It is sick, and it is so freaking funny.
Creed was many people's favorite character because he was just there to be weird. No one knew about his past, except when he told the cameras that he stole a dead man's identity. He was like Don Draper but more unhinged.
Article continues below advertisement
Meredith probably spoke only once every three episodes, but when she popped up (as a vaguely alcoholic, surprisingly slutty rando), it was hilarious. Later in this episode, her hair catches on fire while she's belly-dancing at the office Christmas party.
Ryan started out as a temp in the office, then graduated business school and was hired for the corporate office, then got arrested, and then returned to the lowly office in Scranton. His character trajectory has been hilarious, and he was at his best in relation to Kelly.
Who could replace Pam as secretary? The adorable Erin brought some surprising fresh air onto the show later in the series (Ellie Kemper was of course also adorably funny in Bridesmaids!).
Who is your favorite smaller character on The Office? Why do you love them? What do you think it says about you (are Creed fans crazies, for example)? Tell us in the comments below or tweet us @OKMagazine.