NEWS
Oh Snap! Watch Triumph Insult the 'RHOA' Cast—You Won't Believe the Smack Talk...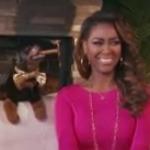 Article continues below advertisement
The dog comments on everything from Phaedra's workout video—"This video shows people that with a little hard work you can achieve your dream of being somewhat out of shape"—to Kandi's line of sex toys—"It is amazing how much you can get done when you don't stop to feel deeply ashamed of yourself."
Watch: See How Phaedra Parks Keeps Her Donkey Booty in Shape
But Triumph and Kenya almost throw down when he continually gets her name wrong!
MORE ON:
Real Housewives of Atlanta
"You better get your hand out of my face!" Kenya commands as Triumph's paw starts waving around.
Photos: Sweetest Moments Between Celebrities and Their Kids
"That little thug dog Triumph though he was going to come in here and mess with the queen bee, but he got another thing coming because I am Gone with the Wind fabulous!" Kenya later snipes to the camera before standing up and storming off.
Triumph's response? He sniffs Kenya's vacated seat.