NEWS
OK! Exclusive: David Hernandez Grins & "Bares" It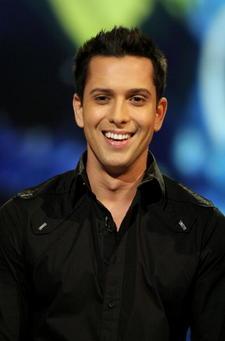 The recent revelation that David Hernandez used to work as a stripper and lap dancer didn't stop him from making it into the American Idol top 12. At the show's Thursday night party celebrating the dynamic dozen, David told OK! that he's ignoring the hubbub over his past and moving on.
"I don't let things get to me. I'm not really concerned with what's going on in the outside world right now," David says. "I'm here for one reason, and that's to sing. I'm trying to keep afloat on the show and pick my next songs. I'm going to keep on making my fans and the voters proud. I hope I can do that for them and they keep voting for me and keep me in the competition."
Article continues below advertisement
The controversial contestant also told OK! that he should be the next American Idol because, "I sing from my heart and soul, and I think people can see that."
Meanwhile, David's fellow contestant Danny Noriega, who also got some bad publicity — after an expletive-filled video he had done about Christmas surfaced — was eliminated from the singing competition. Idol rocker David Cook, who moved on to the final 12, tells OK! he'll miss Danny: "He made me smile. He's a kindhearted guy. I wish him the best."
By Carole Glines
For complete coverage, check out OK!'s exclusive American Idol secition !