NEWS
OK! Exclusive: Find Out Why The Voice Winner Cassadee Pope Missed Her Chance to Go Drinking with Coach Blake Shelton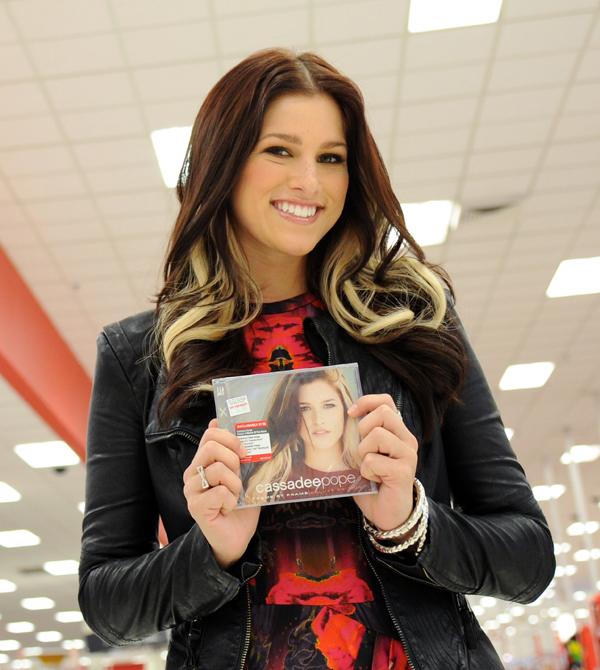 It is a very exciting time to be Cassadee Pope! The Voice season 3 winner stars in her own CMT show Frame By Frame and released her debut solo album of the same name just a couple weeks ago. I caught up with the 24-year-old about why she missed the opportunity to go drinking with Blake Shelton, her must-haves for when she's traveling on the road and when she will actually feel like she's "made it".
Article continues below advertisement
OK!: I want to chat about everything: the album, the show. Let's start with the show. What were the things that you were nervous for the camera to capture?
Cassadee Pope: I was nervous mostly about saying things that might be taken the wrong way or misconstrued. When I am talking in real life and just hanging out with people I don't really think about, "Oh is this offensive, will people pick this apart?" Because I am just being a normal person and talking with my friends. When there is a camera around, one of the things I was thinking is that I'm goofy and that's just how I am. But I can't over-think what I am doing, and when the cameras are on you have to be natural. I just want to make people laugh!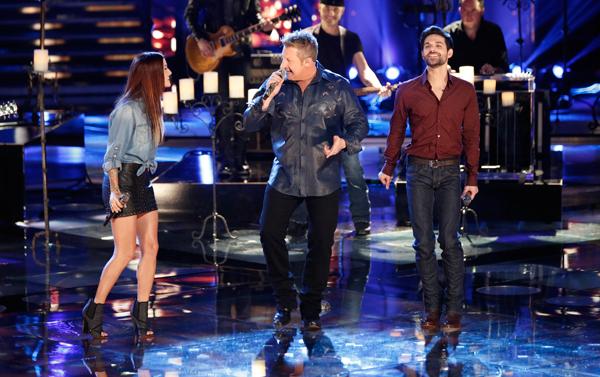 OK!: We also see some of your tour from this summer with The Band Perry and Rascal Flatts, was there a time when you were like, "I really have to pinch myself I can't believe this is happening"?
Article continues below advertisement
CP: Yeah I mean the first night I went out with Rascal Flatts and sang with them on stage was really crazy for me because I am a huge fan. Seeing all those fans out there, all standing and putting up their phones. That is the kind of stuff that makes me dream about me being there one day, and having that crowd be there for me. Getting to sing with them is amazing in itself, but just dreaming about that happening for me one day is really exciting and for it to be happening right before my eyes.
OK! News: Wait, what? Pauly D is a dad?!
OK!: Do you still feel like you're an "aspiring artist"? I feel like you are doing amazing, but when will you feel like you've made it?
CP: I don't know if I'll ever feel like I've made it. That is part of the reason why all of us as artists, are always wanting more, and working towards more and keeping busy. There is just so much that we all want to accomplish and I just have so many goals that I haven't met yet. I do feel grateful, and I love what I'm doing and I'm happy and I'm living in the moment, but I also have my eye on the long game, and the big prize and that is just to make this a life-long career. To make a big enough impact on everybody to stick around for a long time.
Article continues below advertisement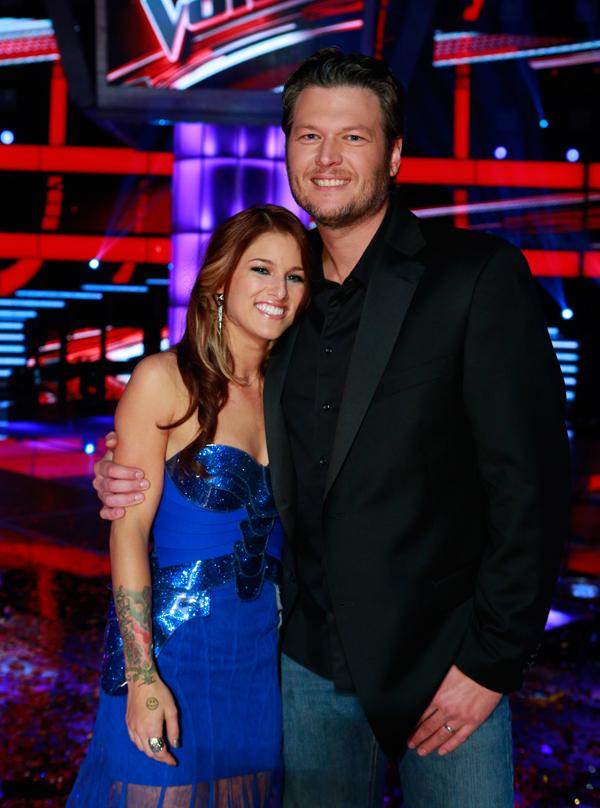 OK!: I have to ask you a little bit about The Voice, too. The contestants this season, why should they join Team Blake?
CP: Team Blake is the way to go because he is an awesome guy just in general, but he is a really, really great coach. He listens to what you want, he doesn't try to turn you into something you're not and try to throw you outside the box because it is for the shock factor. He really wants you to be comfortable and he wants you to stay true to you as an artist. I never once on that show felt like I was doing something that didn't speak to me and wasn't true to myself. He is the guy that I think every new artist needs as a mentor, he is just incredible.
OK!: Have you ever gone out for a night of drinking with him? I feel like that would be amazing.
CP: The only time that I was able to possibly drink with him was at the wrap party and I knew I had to get up at 3am the next morning so I didn't even have a sip of alcohol unfortunately. I guess it's a small price to pay.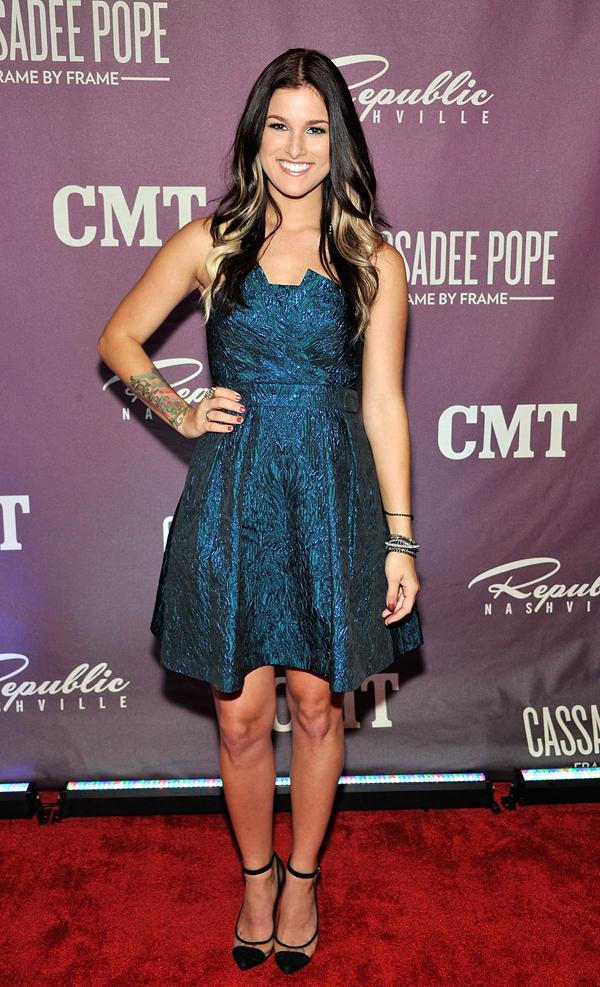 OK!: I love that on your show it starts with you saying that Spanx are a girls best friend, because yes. But what are your other must have's on the road?
Article continues below advertisement
CP: I really love my True Match concealer, it is great if you just want to cover some spots and you don't have to cover your whole face. I don't really like wearing a face full of makeup all the time, I just like covering up the spots that I am a little self-conscious about. I have been really heavy into Pro-activ for the past month, and it has been working very well with my skin with all the traveling and all the different water and wearing makeup all the time. It is a really really good thing that I have started using that because it is so strong and it really zaps everything. And I love my Mason Pearson brush, it was a splurge for me to buy it but I know it will last forever and it has really been great for my split-ends, it has kept them really fresh and not split anymore.
Photos: The best designer shades for fall
OK!: Now that you have a reality show, are there other reality shows that you love to watch?
CP: Oh yeah, anytime I can watch television I usually do the reality show stuff, unless it is of course Breaking Bad or Homeland then I am all over it. But I am sucker for the Real Housewives, that is something that I just get sucked into if I am at home just relaxing and I just watch something that is kind of mindless and I don't have to really keep up with the storyline, I watch that. I love The Voice, I haven't been able to watch this season yet, but when it's on I watch it because it is just a great show.
Article continues below advertisement
OK!: Have you kept in touch with any of your friends from The Voice? Have they reached out to say congrats on the album and all that?
CP: Yeah it has been nice, everyone has been really supportive. I have kept in touch with Davis who was on Team Blake, she was one the first round of the live shows, that is how far she got and we were roommates so we kept in touch. I wrote my album in Nashville and that is where she lives. I actually got a text from Terry last night, and we've caught up, every once in a while we will reach out to each other. We were really really close on the show, and we kind of took comfort in each other because we both came from bands and toured and were on major labels so we understood each other. A few people I keep in touch with on Twitter but it is just so hard because I try to keep in touch with everyone, my family and my friends, and my friends from home, I try to spread it out evenly but it is kind of hard to do that.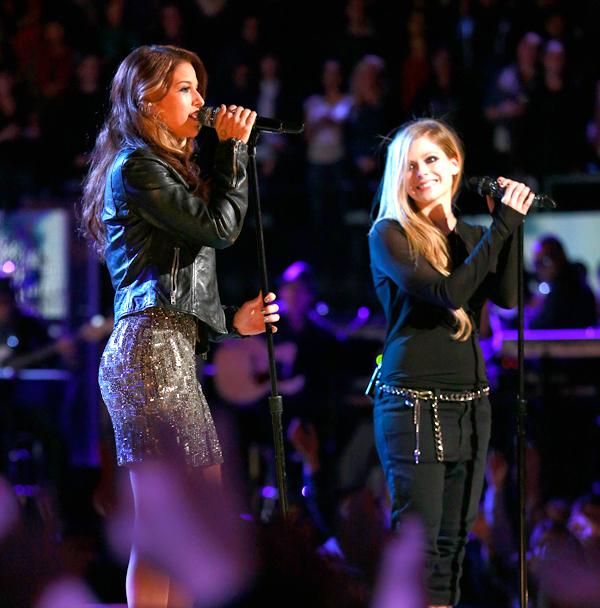 OK!: Well you are a popular girl now! Have you met any of your musical idols along the way too?
CP: I have, I got to sing with Avril Lavigne on The Voice which was a big deal for me. I met Faith Hill at the ACM's and that was huge because I covered a lot of her songs growing up. I met Michelle Branch and that was awesome, she is a big, I love her I am a big fan, she is a huge influence. That is about it as far as idols go. Oh and Kelly Clarkson, that was a big one too.