NEWS
OK! Exclusive: RedFoo On His "Ridiculous" New Video, Naked Crowdsurfing And Where He Gets Those Sparkly Speedos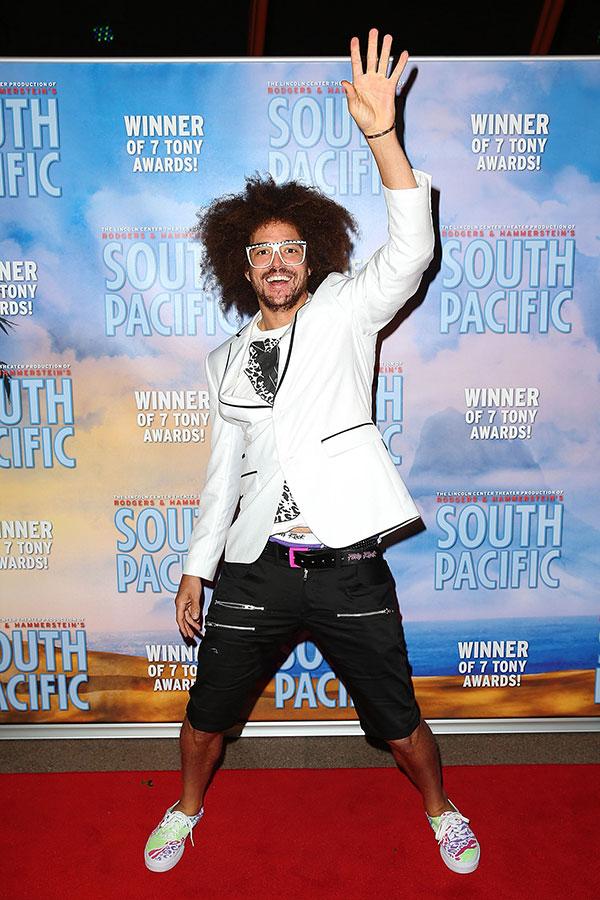 RedFoo's latest single for "Let's Get Ridiculous" has easily landed on my mental list of best songs of the year. It's fun, it's energetic and it's just begging me to shake my butt. I recently got to catch up with Mr.Foo himself about the video, the companion web series Behind the Speedo and most importantly where he gets said speedos. Enjoy the "Lets Get Ridiculous" video and our chat below.
youtube=https://www.youtube.com/watch?v=1w9DiGlZksU&w=560&h=315
Article continues below advertisement
OK!: Let's start with the video because it is amazing. Where did the ideas for the video actually come from? I feel like you could've done ten different videos with all those ideas but put together into one is awesome.
RedFoo: I feel like every time I do a video I say I want to make it like a movie, I want to make it very entertaining. So I start to just scan in my brain for what I haven't done before so I can do something unique and ridiculous, and what that song means. It definitely had the Charleston-type of dancing which I've always wanted to do, I've always wanted to do the couple dancing like that like at the end. I knew I had the dance, and then it was like 'Ok how does this dance live and in what situation?'. I have a production company and we have some good, creative people on the team so we came up with the whole storyline of the mayor wants to silence me because I am influencing the youth, I'm talking about being unique and having fun and being creative and kind of being ridiculous and I have a message. It just kind of came out that I would be running from the cops, and I could be dancing and running and doing the silly bits that are like the Benny Hill stuff. It's all the stuff I grew up liking as a kid. All the physical comedy with the cops and robbers and the chasing and the Charlie Chaplin and the Three Stooges type of stuff and the Scooby Doo, the Austin Powers. Just all the stuff that I have loved and then ingesting my character and getting with Mickey Finnegan. We bring the ideas and then Mickey puts his spin on it and adds more to it, and then we designed the clothes.
Watch: See the hottest guys on late night talk shows this week in Late Night Booty Call
OK!: Well it is entertaining from beginning to end.
RF: Yeah that is one thing, it is a seven minute video but it just flies by so fast to me. It is really fun. It is really great to have everybody's reaction, and have them say that it's funny. Apparently everyone loves my acting in the beginning. I am most proud about that intro. It was great we casted these actors and the mayor and then we got the idea for Behind the Speedo. There was some politics and we almost couldn't get the permits and stuff so there were some situations because Behind the Speedo is like a documentary. It is loosely based on my real life. It's an idea that I feel very strongly about, wherever I go we are always shooting this docu-style sitcom. I don't want to go off on crazy excursions that take me away from what I really have to do, so it is all going to be around what I really do. It is so fun and I just love that people think it's funny and good. It means so much to me, it's not just that people like the songs it's that they like the world, the characters, the movie, everything. That is what I am most excited about.
Article continues below advertisement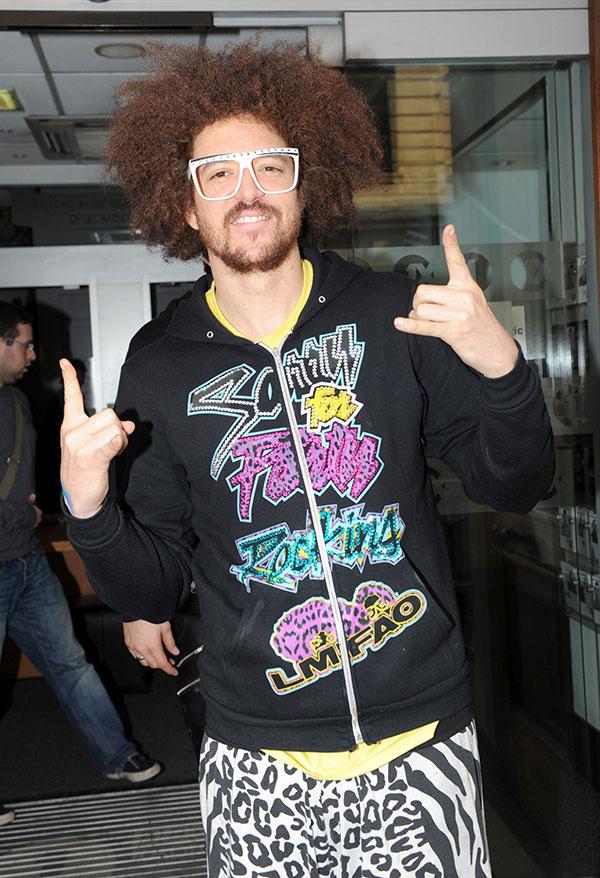 OK!: How many of the things in this video have you actually done, from the skydiving to the flash mob, have these things actually happened to you?
RF: Well I've never been skydiving for real which I wanted to do for the video because I said to myself 'I'll only skydive for the video' but they said they couldn't capture it right and they were like, 'All the Superman stuff that you do is all green screen.' That was exciting like, 'Oh I'm going to do the same thing as Superman!'. All the dancing stuff, yeah I've done the flash mobs, everything else...I don't think I've ever really run from the cops like that before, except like Halloween as a kid, you spray the shaving cream and they chase you. In school that is how I used to be, I used to be a class clown. On my live shows, that is where that joke came up with talking about the message, because I would say on my live show, 'All these great leaders had a message, Martin Luther King Jr. said 'I have a dream,' Obama said 'Yes we can', Bono has his message, so it's time for me to say my message, and my message to the world is 'Let's get ridiculous.' That is where the joke is, where everyone else had their serious message. But actually "Let's get ridiculous," is serious to me, it is really just letting go and being outstanding. It is who I am and it is who everybody is that I look up to. Charlie Chaplin is ridiculous, Benny Hill is ridiculous, Michael Jackson is ridiculous, Eddie Murphy is ridiculous, Chris Tucker is ridiculous, Rick James is ridiculous. You know what I mean? They are all ridiculous, I figured that out. So that is what I love about this record is that it is really my character.
Watch: What items is Phaedra Parks carrying around in her purse?
OK!: I think when you are getting ridiculous is when you are most true to yourself.
RF: That is exactly the point. I see myself as being normal, to me, but everyone else looks at me like 'This guy is ridiculous' because I'm driving a scooter now so they are like 'He's riding a scooter, and he is driving around town with his afro sticking out of his helmet. He has these white lens and big afro and is wearing animal print and sometimes I have a fanny pack that has a stuffed animal zebra on the fanny pack.' And to me it's normal, I'm just being me. So now I am meeting all these people and they are coming around me and I guess they subconsciously learn that they want to be ridiculous and they want to impress me. So they are being themselves, but they are just so ridiculous. There is this one tennis player, Gael Montfis, he is French, and I first saw him dancing to "Party Rock Anthem." He is one of the greatest tennis players of all time, and I got the chance to meet him because he was out in LA and all he wants to do is dance. I like to be funny, but we are eating dinner and he is dancing at the table and we are walking the streets and he's dancing. Then he is like, 'Dance off: me and you', and I'm like 'What do you mean?!' I'm RedFoo, I mean I shuffle but I don't dance-off all the time. And he was like, 'No me and you, right now!' But that's him, that's how he is! Just like what you said, being ridiculous is letting the world see your original stuff. Instead of everyone in their suit and tie just walking straight, it is the people that you get to know and you get to know their ridiculousness. That is all I do, I let the world in to my ridiculous self, my real self. And everybody has it.
Article continues below advertisement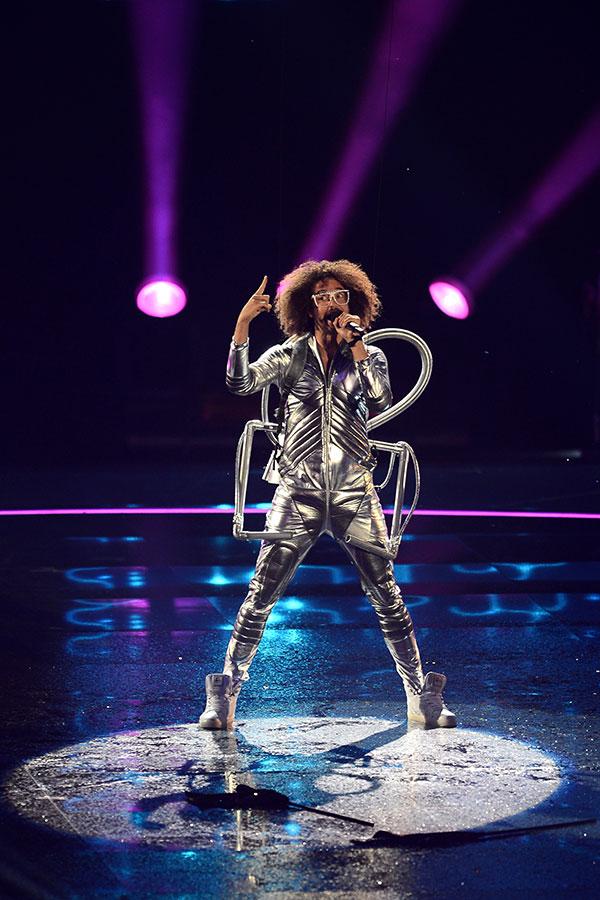 OK!: You recently hosted the EMA's and you've been all over the place. Have you seen people get ridiculous in different ways all around the world where you thought, 'Whoa, I've never seen that before'?
RF: Yeah, I mean look at Miley Cyrus. That is as ridiculous as you can get! But even Katy Perry's ridiculous, and Bruno Mars who has his afro now and the song "Gorilla". And the fans, dressing up in the animal print and during "Sexy And I Know It" there would be fans crowd-surfing with their speedos. Some of the people didn't even have a speedo! Just naked, swinging, dude, just out there. And they thought it was ok, and it was funny, they were crowd surfing, naked crowd surfing! And I said 'Man talk about seeing someone's original self', that's as original as you can get.
Photos: The OK! editors break down Beyonce's new album—and videos!
OK!: What the recording process is like for you? When I hear a song like this I can't sit still, how do you even stand still long enough to record it? Do you have to play it back and get your dance on?
RF: Yeah we already had the beat, my friend Brandon made the beat, him and his brother they travel with me wherever I go. We had been playing this stuff in the club and we had just recorded (the words) "Let's Get Ridiculous" that's it. We knew we wanted to make it a song but it took another month to write "I'm laid back, I'm feeling it, tonight's the night," because sometimes for me it takes pressure. The X-Factor said 'Hey we want you to perform on the show, so if you got something new we can do it." So I said I'll have something new but then it was pressure like, damn I have to come up with something in one day. I just laid down a bunch of vocals and finally when my manager came in to listen to it, he wasn't impressed. He didn't say it but he said 'Oh that's nice, that's nice,' and I could tell. So I said "No no no, ok watch this," and I pressed record because I record on my laptop, and I pushed record and I just did gibberish and he was like 'Oh that's funky.' I said ok 15 minutes, and I put words to that melody. That's what the gibberish became, 'I'm laid back, I'm feeling it, tonight's the night, I just want to let it go.' So it just came out, and I think it's going to be one of those songs where people put it on before the club and they get ready to it. They are going to go to the club to get ridiculous.
Article continues below advertisement
OK!: How do you test out songs? How do you know you have a jam on your hands? Is it listening to it in the car, is it listening to it on headphones, is it playing it for someone in particular? What is the sign for you that you are like 'Oh this is good'?
RF: It's a combination. You play it in the club and see their reactions. I'm DJing a lot so if I'm on tour that's easy, but if not, you play it for friends. Everybody that you come in contact with you play it and you see their reaction. If they start toe-tapping, if they start dancing, if you're making dance music then that's a great sign. If they give you a great positive reaction like "Whoa I love that, can I get a copy,' that's really good. If they are talking through it and they are talking about other stuff then you say 'Oh shit, that's not good.' You can just feel it. Sometimes you don't even need to get their reaction once you play it if they are in the room you can feel their reaction. Often times I'll say 'Oh no the drums aren't hitting hard enough' or I just know right away. I get a bad feeling sometimes if I play something that is unfinished and it helps me like 'Nope, I have to put more time into this section.' People are the best feedback.
Watch: To Be One show us their dance moves in the new video for "Do You"
OK!: How many pairs of those white frame glasses do you have? I'm losing glasses all the time, do you have some extras on hand?
RF: Yeah I probably have a hundred thousand pairs, literally. We buy them in bulk and sell them on the tour so I just have boxes. But you know what, on me I only have about three or four pairs and I am pretty good with not losing them. I have like one extra pair in my backpack. It's like my phone kind of, I always know where they are and I wear them all the time.
Article continues below advertisement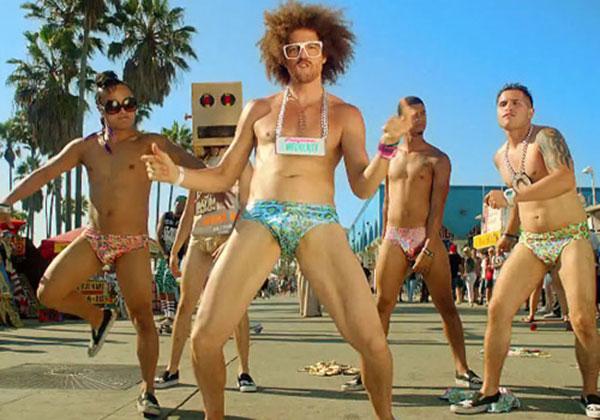 OK!: Do you get custom-made speedos or do you go shopping for them? How does that work?
RF: Yes, these are the ones that we make, the ones in the "Sexy and I know It" music video. All the stuff that we make, we make them for the videos. So I just wear the same kind of ones. I try to wear other ones but these ones sparkle and are just amazing, you know? I like to make everything I wear that way I can sew them in such a way that compliments my situation you know? You can sew them in a way that is like 'Hey look at that.'
OK!: Because of this video and the Behind the Speedo stuff, is there more acting in your future? Is that something you are interested in pursuing?
RF: Yeah sure I love it! I want to do more of that stuff, more TV, more film, more hosting. I love comedy. I have always been doing sketch comedy since I was a kid because one of my mom's boyfriends was an improv comedy guy so were doing skits all the time growing up. I graduated from Improv Olympic. I used to do standup comedy. I always love to do that stuff so I just kind of do it, I put my fun character into the music and I do the videos. Being a visual artist is very important to me.
Article continues below advertisement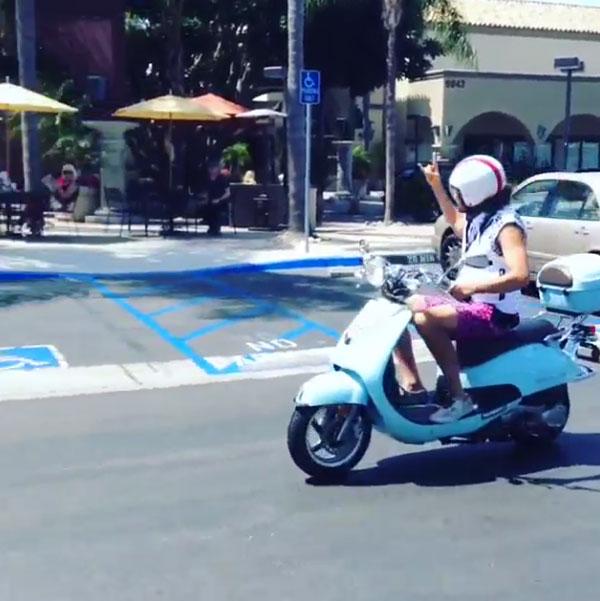 OK!: Ok last thing before I let you go, what is the most ridiculous thing that happened to you today?
RF: Today I drove my scooter for the first time on the streets in L.A. First time. From Manhattan Beach to Hollywood. I couldn't take the freeway so I drove on the streets through the hood in the morning. It was just exhilarating and fun. I have always been a little scared of it, but I am such a good bike rider, I ride my bike in the street all the time. I was like 'It can't be that different', but it is different when you are going 50 mph next to a big rig on La Cienega. It was exciting, I did Instagram, put the phone on the harness so I could do the maps and type in the location. I actually have my bike right here, and I gotta go I have another meeting so I am just going to drive my scooter today. I think I am going to buy another one today! For me, it is totally ridiculous to be driving a scooter, and my manager is going crazy like 'Get off the streets!' It's just one of the most exciting days of my life right now.
What is your favorite part in the "Lets Get Ridiculous" video? Tell us in the comments below or on Twitter @OKMagazine.