NEWS
Oprah's Audience Tweet 'Twilight' Taping Details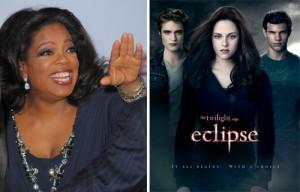 Now that Oprah Winfrey has taped her show with Twilight stars Robert Pattinson, Kristen Stewart, Taylor Lautner and Dakota Fanning and the Twi-hards in the audience have taken to Twitter to fill everyone else in on what we missed!
OK! NEWS: KRISTEN STEWART — "I'M NOT MISERABLE"
MTV's Hollywood Crush chatted with Niekema Hudson on the phone, who's been Tweeting like crazy ever since she sat in Oprah's audience, about Rob and Kristen being asked flat out about their relationship.
Article continues below advertisement
"Oprah asked the question directly, like, 'So, everybody wants to know!' but they really did avoid the question," 31-year-old Niekema explained. "They both kind of looked like, 'Uhh, are we supposed to answer this?' and then Rob joked that Kristen was pregnant, and she joked that, 'If I'm pregnant, then Rob's going to have the baby.'"
OK! NEWS: TENTATIVE RELEASE DATE FOR BREAKING DAWN!
Niekema wrote an essay to Oprah to get on the show about how much she loved Twilight and found out Monday she got a ticket and would get to see the The Twilight Saga: Eclipse in advance!
"I was so excited about being able to go to the show, I completely read over the fact that we would be seeing the movie the night before," she said.
She estimated that 150 Twi-hards attended the screening and taping and were told to wear "Twilight" tees and dark clothes.
OK! NEWS: CULLENS SHOW THEIR TRUE VAMPIRE-NESS IN TWILIGHT SAGA: ECLIPSE
Nicole Salera, 19, sent in an essay that included photos showing how Twilight is in her life, and brought her friend along once she found out she had been accepted as an audience member. Seeing all the Twilight stars — and the movie — brought her to tears, she said.
Article continues below advertisement
"I felt Kristen's personality shine throughout the interview," 19-year old Nicole Salera wrote to MTV's Hollywood Crush of her audience experience. "She explained how she is shy and just as nervous as we are, which is cool of her to say." "Taylor Lautner, my husband who doesn't know it yet, looked hotter than ever and I couldn't stop staring at him. He explained how he likes dorky girls, yes! We will be perfect together. He also loves beef patties."
Article continues below advertisement
OK! GALLERY: SEXY NEW STILLS FROM TWILIGHT SAGA: ECLIPSE
One lucky young girl wrote about how Kristen and Bella are her role models and during a break Kristen reportedly gave her the ring she always wears!
Nicole didn't let the experience end when taping ended, she followed them to their car!
"We waited for the cars to leave after the show and my face was basically smacked against Rob Pattinson's car and it was perfect," she explained. "Best day of my life!"
OK! NEWS: TWILIGHT SAGA: ECLIPSE ENGAGEMENT RING FOR SALE
As a special gift from Oprah, everyone in the audience reportedly got a voucher for Bella's engagement ring from Infinite Jewelry Co.
Oprah's Twilight episode airs May 13 (Rob's B-day!), but until then we can live vicariously through these lucky fans!