NEWS
OK! EXCLUSIVE: Top Model Winner: "I'm Not Anorexic!"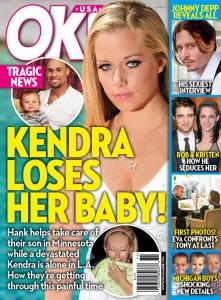 When America's Next Top Model crowned this season's winner as the super-skinny Ann Ward, many women were outraged. They saw Ann's win as encouraging the impossibly thin ideal women are supposed to strive for. In this week's issue, Ann gives OK! the real story behind her extremely thin body and shows why she really does make a good model.
When Ann stepped onto the ANTM set for the first time the 6' 2" (and reportedly under 100 pounds) teen shocked the judges with her tiny frame. Even fashion-industry fixture J. "Miss J" Alexander, couldn't believe her tiny waist. The runway diva discovered that he could wrap his hands completely around the 19-year-old's waist.
Article continues below advertisement
OK! NEWS: AMERICA'S NEXT TOP MODEL CROWNS CONTROVERSIAL WINNER
"I didn't notice how skinny my waist was," Ann tells OK!. "I was like, 'Oh, my God, I do have a tiny waist!' "
But Ann denies any rumor that her waif-ish waist is due to an eating disorder. The model takes on critics exclusively in OK!, insisting that any speculation she is anorexic or unhealthy are completely unfounded.
"I'm healthy the way I am," Ann says. "If I tried to be any different, it wouldn't be right for me."
"My family all grew up being really skinny. We each have a really high metabolism. I eat a lot and don't gain a pound. It runs in the family."
OK! NEWS: TYRA BANKS SUED BY TEEN SEX ADDICT'S MOM
Many viewers are still outraged that the show would reward such extreme thinness, especially after host Tyra Banks has publicly battled with her own weight.
Former ANTM judge Janice Dickinson seems to be one of the critics. Janice says she wouldn't even use Ann as a model since "She's too skinny and doesn't look healthy."
Article continues below advertisement
But current ANTM judge, fashion photographer Nigel Barker stands by the decision to crown Ann the winner and explains to OK! how she really is a positive role model for women.
"People might find it alarming that she has a slim waist, but she also has other issues people can identify with," Nigel says. "She's so tall and doesn't fit in. Others can think, 'That's an issue I have.' "
Nigel also reminds OK! that "ANTM has always represented a variety of people. We need to celebrate differences."
This is one thing that Ann definitely agrees with. While growing up in Dallas, the model was bullied because of her lanky frame. "In third grade, I was taller than my teacher!" she says. It was only after being included on ANTM that Ann finally comfortable in her own skin.
"I always have to hunch down. Having the other models at eye level was definitely cool."
OK! NEWS: TYRA BANKS WORRIES ABOUT HER LOOKS
Even with all the controversy and criticism, Ann's experience on the show — and her win — have done nothing except increase her confidence.
"If you are the way you are naturally," she says, whether it's super skinny or super tall (or both!), "that's what makes you you."
And an attitude like that really is something to celebrate.
FOR MORE ON ANN, INCLUDING FASHION INSIDER'S OPINION'S ON WHAT IS 'TOO SKINNY', PICK UP THIS WEEK'S ISSUE OF OK! — ON SALE EVERYWHERE NOW!