NEWS
OK! Interview: Kellie Pickler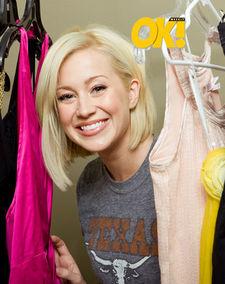 American Idol alum Kellie Pickler absolutely needs her hair and makeup people, but not because she's a spoiled, demanding diva – because she can't do it herself.
"Well, I have a team of highly-trained professionals that get me ready because I can't do it on my own," she tells OK!. "When I'm out on tour, I usually just do it myself but for TV and photo shoots I usually have people that help get me ready because it's so stressful anyways."
Article continues below advertisement
(CLICK HERE for OK!'s exclusive photo shoot with Kellie!)
Kellie admits that she's a simple girl when it comes to makeup, saying "I hate wearing makeup anyway – I don't ever wear it unless I have to." Although when it comes to mascara, she'll hit up the nearest drug store to stock up on her favorites.
"I have 40,000 mascaras," she jokes. "For a girl that doesn't like makeup, I have a lot."
The natural beauty definitely doesn't need any help from makeup to catch a man either – she's currently dating Nashville musician Kyle Jacobs. The couple keeps it casual when she's home from tour, choosing to relax on the couch instead of hit up wild night clubs and fancy restaurants.
(Click here to take OK!'s exclusive quiz on all things Kellie!)
"When I come in off the road, I like to crash and be a bum and sit at home on the couch and just talk," says Kellie. "We don't really have to be doing anything. We usually just enjoy each other's company and make each other laugh."
Of fellow American Idol country sensation, Carrie Underwood, Kellie hopes she'll find someone to laugh with too, saying the guy for her should be "someone who's trusting and funny and a good guy who is going to treat her right."
As for any rumors swirling around Kellie herself, she's got a positive, if not overly generous, attitude: "I'm just glad people are actually talking about me. And when they're talking bad about me, they're giving somebody else a break."
Watch Kellie host the CMA Music Festival special, along with fellow country gals Taylor Swift and Julianne Hough, Sept. 8 on ABC.