NEWS
OK! Next Big Deal: Aubrey Peeples, the Girl Stirring Up Trouble on Nashville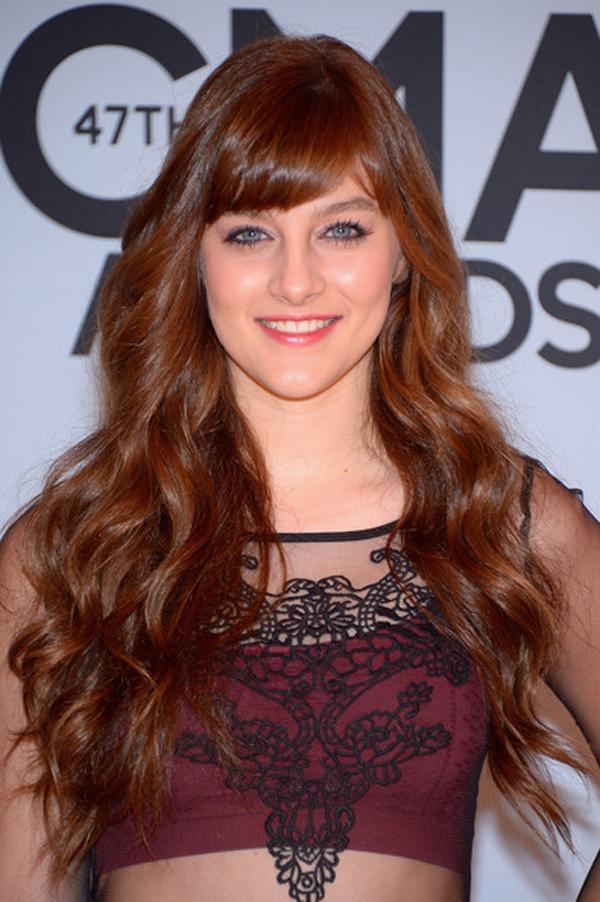 It's your first big job in Hollywood, and Hayden Panettiere is ripping you to shreds. This has been Aubrey Peeples entry to stardom—she plays Layla Grant, the current nemesis of Hayden's character Juliet on Nashville. We chatted with Aubrey to find out what it's like to spar with Hayden, and she even gave us some spoilers for when the show returns next week.
OK!: How did you get your start?
Aubrey Peeples: I've been singing and hollering around the house since I was two. I liked to sing Aretha Franklin's "You Make Me Feel Like a Natural Woman." laughs My parents first took me to a show when I was 3 or 4, and I just fell in love with it from there and knew I wanted to perform. I was vocally, classically trained from when I was 10. When I was in fifth grade, I was like, I want to be in movies! So I got an agent in the southeast, who I'm still with. I started going back and forth to Los Angeles. I've been very fortunate to have continuous work.
Article continues below advertisement
OK!: What would you say was your big break?
AP: I feel like there's a few different answers to that. I'd say the first time people noticed me, or at least what got a lot of attention, was Sharknado. laughs I would consider what I'm doing now my big break, because it's the most recognizable thing I've done, with the biggest fan base. This whole year has opened a lot of doors for me. I filmed a movie over the summer with Nicolas Cage.
OK!: Tell us about your character on Nashville.
AP: She's a troublemaker. She's an up-and-comer, and she was on the same label as Hayden and Connie's characters. She's obviously a singer, and causing a lot of competition for the other singers on the show, which keep things spicy. I tell people that being Layla is always like being on the edge of a cliff. She's in this adult world, and she thinks she knows how to handle it. She hasn't learn to control herself yet.
Article continues below advertisement
Photos: Take a tour of Hayden Panettiere's amazing mansion on Nashville!
OK!: She definitely has a lot going on. So as of the most recent episode, she still doesn't know her boyfriend is gay?!
AP: She doesn't know her boyfriend is gay. laughs Poor Layla. Really, poor Will.
OK!: It was left open-ended for him. Can you give us any spoilers for the next few episodes?
AP: Yeah, well, it was leaked that someone was killed in the midseason finale, but it was left ambiguous. So! The person who was killed... is... There's no way I'm going to tell you that! laughs There's definitely going to be some interesting things with how Layla handles that whole situation, because obviously she comes home and he's not there. For everyone else, relationship drama continues to ensue. There are a lot of power plays between Juliet and I. She's going to have to come to Layla for some help, and it'll be an interesting dynamic.
youtube=https://www.youtube.com/watch?v=lV_9diuAPN4&w=560&h=315
OK!: Every scene you have with Hayden, she's really mad at you. Is Hayden terrifying to film with in those scenes?
AP: No, I love her! It's so funny because we just joke and crack each other up between scenes, and then we're so mean to each other. In between scenes, we're like I'm so sorry. I'm so sorry. She's so powerful as an actor. I feel fortunate to work with her, because she brings so much to the scene and so much to her role.
Article continues below advertisement
OK!: What are your favorite scenes to film—do you like the more dramatic moments, or singing?
AP: Oh, that's so hard. In a few episodes coming up, Layla is revealing how she grew up and the way she was raised. It's a really big emotional scene, and I love doing that. It's a challenge. This makes her more grounded, so I'm excited to see that. But the Layla/Juliet scenes are like a tennis match. It's just really fun to film scenes like that.
OK!: You sing in real life. Is that something you would pursue professionally?
AP: Absolutely. What I really like to sing is old rock and jazz, so those are my major influences when I'm writing. I love writing music. I play guitar and the piano. I'm trying to develop that now, and write for the show. I just wrote two songs we're pitching for the show to be used for my character. I love country, too, like Johnny Cash and Patsy Cline. I just sang at the Opry with Chris Carmack, and we sang a Johnny Cash and June Carter song, "Jackson." That was super fun.
Article continues below advertisement
OK! News: We chatted with the adorable Lennon and Maisy of Nashville!
OK!: What are you listening to these days?
AP: I'm a bit of an old soul. I've been going running a lot, and I like to listen to not hip hop or rap, but the Doors. I've been lsitening to them a lot lately. I love the blues. I've been listening to Nirvana's Unplugged. As far as new stuff, I love Lorde's album.
OK!: Tell me a bit about this movie, Tokarev, with Nicolas Cage.
AP: It's coming out this spring, and it's going to be an international release, which I'm really excited about. In it, I play Nicolas Cage's daughter, and I go missing and it's about him trying to find me. It's exciting. He was lovely to work with.
OK!: Lastly, what's the most embarrassing item in your closet?
AP: I have so many embarrassing moments in my closet. I have this theory that you can wear anything with confidence, but that means I wear a lot of ridiculous things. I just bought a bright green vinyl jacket with a fur collar. That's pretty embarrassing, but it doesn't stop me from watching it. I'm a big thrift shopper.
OK!: What's a movie you watch every time it's on TV?
AP: Edward Scissorhands. I usually watch it every Halloween For some reason, I love stories that aren't fulfilled, that end horribly. laughs
What do you think of Layla on Nashville? Do you like her character? Who do you think died in the last episode? Tell us in the comments below or tweet us @OKMagazine.