NEWS
OK! TV Awards: Vote for the Most Shocking Moment on TV This Year!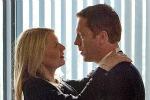 It's harder and harder to keep TV secrets these days. Even if you're planning to spend the weekend catching up on your favorite shows, you have to basically wear a blindfold and never approach the internet to keep yourself from spotting major spoilers.
OK! News: Vote for the craziest fan base on TV!
So with that warning in mind—SPOILERS, YA'LL!—check out the five most shocking moments of the year, the ones that made you rewind your DVR to make sure that yes, that actually happened. They're what TV is all about.
Article continues below advertisement
Carrie has made some poor and also illegal choices on Homeland over the years, but the season 2 finale was a whirlwind. She helped him escape, but then decided not to go with him. What now? Also, the video above is not a clip of the ending but instead a montage of the couple set to Taylor Swift's "Red." You're welcome.
The average episode of Pretty Little Liars has at least one shocking moment before each commercial break, but the finale sort of, kind of revealed who's been leading the A Team—Alison, the dead girl at the center of the whole show. Or is she dead?!
Matthew Crawley dies on Downton Abbey
MORE ON:
pretty little liars
Hasn't this show put us through enough? After a particularly sad season, the finale ended with another dead, of lead character Matthew in a car accident right after the joyful birth of his son.
Article continues below advertisement
For the entire run of The Office, viewers (and the characters!) have sort of ignored the construct that we're watching this show as it's being filmed by a documentary crew. That construct exploded this season, when Pam reached out to the sound guy for emotional support. The airing of the documentary has now become the final plot of the series.
Jess and Nick kiss on New Girl
The hot kiss heard around the world! The Jess and Nick kiss was all anyone could discuss the next day, whether or not you were a faithful New Girl viewer. My personal theory of the kiss' heat? I think the sound is turned way up on their microphones, picking up every inhale, lip smack, and pant!
Were you shocked when these moments happened? Did you think they were interesting plots? How many times did you rewatch them? Tell us in the comments below or tweet us @OKMagazine.