NEWS
Revealed: What Angelina Has Told Judge In Ongoing Brad Pitt Divorce Case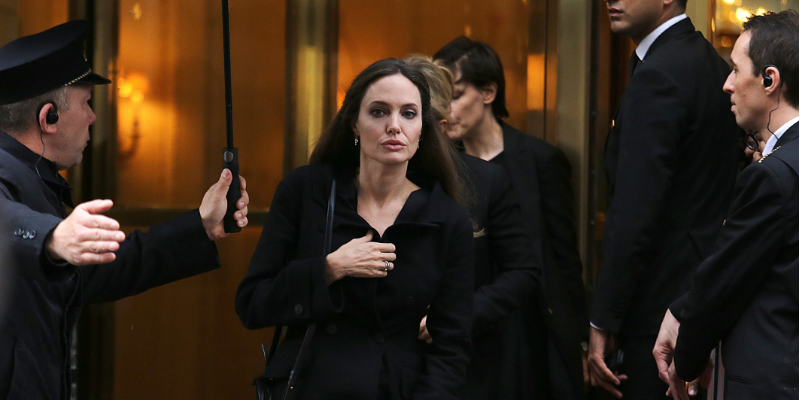 Angelina Jolie filed for divorce in 2016—but the case is still dragging on amid complaints from Brad Pitt's camp that she's burnishing his "good guy" image — and help keep the focus off some skeletons in his own closet.
OK! can reveal the drama at the center of the case remains what happened on board their 12-hour private jet when Pitt was alleged to have "attacked" son Maddox on the flight home from Nice, France.
Article continues below advertisement
"Angie is dragging this out because there is a part of her that won't accept the findings of an independent investigation into the incident," a source said.
"Brad has skeletons in closet. This is all about image for her. She cannot accept that Brad has been welcomed back into Hollywood without consequence for what happened on the plane."
ANGELINA JOLIE DATING HANDSOME ELIGIBLE BACHELORS AFTER DIVORCING BRAD PITT
This month, Jolie asked that the private judge in their divorce battle be tossed from the case because of an alleged cozy relationship with Pitt's high powered legal team.
They contested the decision—it will now be determined if he has a conflict via an appeal—and said in court papers that Jolie's move "reeks of bad faith and desperation."
They added that the couple's six kids are "the individuals hurt most by Jolie's transparently tactical gambit," as "they continue to be deprived over a resolution to these custody issues."
Article continues below advertisement
According to a source, after the clash with Maddox, Pitt "yelled at Angie that she could go to a hotel if she wanted to, but the kids were coming with him."
"Angelina didn't want to call the police," the source continued, "because she didn't want a media circus.
"So she tried to calm Brad down by making him think that he was going to get his way."
Meanwhile, she managed to convey her hotel plan to Maddox via text message.
Article continues below advertisement
Once they touched down to re-fuel at Minnesota's Falls International Airport, the source said, Pitt stormed off the plane, "wandering the tarmac, screaming and cursing and blowing off steam."
When it was time for the final leg of their trip, the source added, another argument erupted over whether it would be better for one of them to decamp to a hotel; Jolie's suggestion that Pitt stay behind while she flew on to L.A. with Maddox and the other children.
The bickering delayed takeoff, the source said—and continued when they were back in the air, until an exhausted Pitt began to silently stew.
ANGELINA JOLIE CONCERNED ABOUT THE LEGAL "LITTLE SECRET" IN HER DIVORCE CASE
Jolie, meanwhile, again arranged for separate cars to greet them on the ground in L.A.
When they got to Los Angeles, the kids "piled into the cars Angie pointed them to and locked the doors," the source said, before being whisked to their Hollywood Hills home, while Pitt went to another location.
Article continues below advertisement
Both the FBI and the Los Angeles County Department of Children and Family Services ultimately cleared Pitt of child abuse after short-lived investigations.
But while most assume their involvement was the final straw that pushed Jolie to file for divorce, an insider close to Pitt claims that she had made up her mind about ending the marriage months prior, and that friends had nudged her to "goad Brad" into an explosive fight "that would ultimately give her leverage in court during a custody battle."
Said another source: "Jolie has a love-hate relationship with Brad. She can't fathom how the court or authorities have not, to date, held him to account for what she believes was grossly inappropriate behavior on the plane."