NEWS
Oprah Reveals Big Dream for OWN: Getting O.J. to Confess!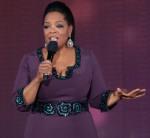 Merely a few weeks after The Oprah Winfrey Show rode into the sunset, the famous talk show host is making a bold announcement. Admitting that her OWN channel started off with a few bumps on the road, Oprah Winfrey declared a dream interview: O.J. Simpson!
OK! NEWS: OPRAH FINALE REACHED 16.4 MILLION VIEWERS!
During a cable industry trade show yesterday she announced her ambition. According to The Hollywood Reporter (via PopEater), the queen of talk dished, "I have a dream of O.J. Simpson confessing to me. And I am going to make that happen people."
Article continues below advertisement
OK! NEWS: OPRAH WINFREY'S FINALE EPISODE — "UNTIL WE MEET AGAIN"
Oprah told Paula Zahn, "I don't just want the interview. I want the interview on the condition that you are ready, Mr. Simpson."
Even if he is ready to confess to the 1994 murders of Nicole Brown Simpson and Ronald Goldman, it may not happen for a while. He's currently in jail for a kidnapping and armed robbery case. O.J.'s currently a resident in Nevada at the Lovelock Correctional Center and will be up for parole in around six years!