NEWS
Oprah Winfrey's Finale Episode: "Until We Meet Again"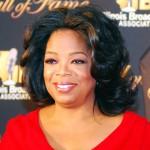 No guests, no giveaways, just Oprah Winfrey. For her final episode of The Oprah Winfrey Show today, the host made it an intimate affair by just talking to her viewers and reflecting on the past 25 years.
OK! NEWS: OPRAH WINFREY'S FINAL SHOW TOPIC (& GUESTS) REVEALED!
"I won't say goodbye, I'll just say until we meet again," Oprah said on the show (via The Associated Press), which airs today.
"Twenty-five years and I'm still saying, 'Thank you America,' " she said. "Thank you so much. There are no words to match this moment."
Article continues below advertisement
Sharon Evans, another audience member said, "She was very subdued today and I appreciated that she was taking that last hour not to showcase any celebrities or favorite things. It was truly what she said, a love letter to us."
In the audience were Tyler Perry, Maria Shriver, Suze Orman and Cicely Tyson watching in support.
The final shot of the show was Oprah walking away with her cocker spaniel, Sadie.