NEWS
Oprah Winfrey Meets the Kardashian Klan: What Did She Think?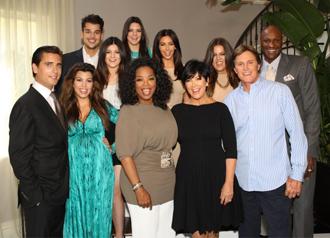 Oprah Winfrey is a celebrity in her own right, but when it came to meeting the entire Kardashian family for the first time, she was pumped!
The famous talk show host and inspirational figure dropped in on Kim, Khloe, Rob, Kourtney, Kris Jenner, Bruce Jenner, Scott Disick, Lamar Odom, Kendall Jenner, Kylie Jenner and Mason Disick yesterday for an in-depth interview, covering topics like Kim's 72-day marriage to Kris Humphries, Kris Jenner' momager role, and Khloe and Lamar's marriage.
Article continues below advertisement
OK! NEWS: PARIS JACKSON TALKS TO OPRAH WINFREY ABOUT BEING BULLIED: "IT DOESN'T REALLY WORK"
"I had never met them, nor seen the show," Oprah shared on her Facebook page, where she posted a photo of her and the Kardashian clan. "I did a full on Kardashian Kram in preparation, watching major shows from every season."
"I genuinely wanted to know why they have become a cultural phenomenon? Why do so many people love to watch their every move and why do so many others love to hate them. Are they completely ego centered? Are they really 'famous for being famous' or is there something more?" Oprah asked.
"Ummm no big deal Oprah just left my moms house! #DreamComeTrue," Kim Tweeted late last night following the interview, which will air in a new episode of Oprah's Next Chapter on Sunday at 9 p.m. ET on OWN.
And Kourtney Tweeted, "Surreal day being interviewed by the queen @Oprah. Not many words to explain how incredible the experience was except for AHHH!Major moment."
Will you watch Oprah's interview with the Kardashians?