NEWS
Parenting Experts Disagree Jen Aniston is "Destructive to Society"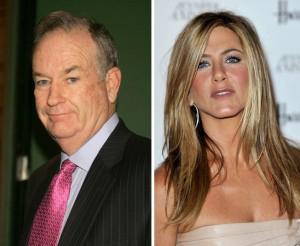 We've heard Jennifer Aniston's opinion that you don't have to have a man to have a baby and we've heard Bill O'Reilly's call that thinking "destructive to society," so now it's time to ask the experts — parenting experts.
OK! GALLERY: 10 HOLLYWOOD COUPLES STILL GOING STRONG AFTER 10 YEARS
"Women are realizing more and more that you don't have to settle, they don't have to fiddle with a man to have that child," Jen said (via PopEater) while promoting her new film, The Switch. "They are realizing if it's that time in their life and they want this part they can do it with or without that."
Article continues below advertisement
Bill took issue with what Jen said about single parenting.
"She's throwing a message out to 12-year-olds and 13-year-olds that, 'Hey you don't need a guy. You don't need a dad,'" he said. That is destructive to our society."
So who's really sending the wrong message to society, Jen or Bill? PopEater decided to ask some parenting experts.
"It's unrealistic and not in touch with how family is changing," social psychologist Susan Newman, author of Parenting an Only Child, told PopEater. "The traditional family that we have always known as mom, dad and two kids is no longer the traditional family."
"Children of single parents do just as well as kids who have two parents," she said. "There's nothing in the research that says having a baby by yourself is a terrible thing."
OK! VIDEO: BILL O'REILLY SAYS JEN ANISTON "IS DESTRUCTIVE TO OUR SOCIETY"
Another expert said younger children probably haven't even heard what Jen said.
"I don't think 12- or 13-year-olds are paying attention to what Jennifer Aniston says or even know who she is for that matter," Beth Feldman, founder of Role Mommy, explained. "Jen's message is meant for 30- and 40-something women who haven't yet met the love of their life — and she's right on target."
Article continues below advertisement
And Beth think Bill was out of line to attack Jen.
"Bill O'Reilly went overboard in his condemnation of Jennifer Aniston," she said. "Dads definitely play an important role in the lives of their children, but if a single woman ... wants to raise a child without the support of a man and if that woman happens to be Jennifer Aniston, then I say go for it. In the end, that baby is going to be the luckiest boy or girl on the planet!"
"It is a prejudice that single parents -- mostly moms -- are deficient parents," parenting expert and psychologist Carl Pickhardt weighed in. "In fact, they are among the strongest and most resourceful parents I see."
OK! VIDEO: JEN ANISTON OPENS UP ON MOTHERHOOD
Whether Bill like it or not, women having babies alone is a reality.
"It's actually a reality — it's what's happening in society," Susan said. "Women are more independent, they're waiting longer to have children and they don't necessarily have to wait for Mr. Right because they have the family and financial support they need."
Article continues below advertisement
However, have a man in the pictures is beneficial to the child's development.
"If the movie asks the question, 'Why shouldn't a woman make a child without having a father in the picture?' there is only this: An involved father can enrich the family life of all concerned," Carl said.
"I think everybody is missing the point. This is a romantic comedy," Susan added. "It's for laughs and for fun and it's a good story. I don't think she's sending messages that everybody should go out and have a baby as a single woman."