NEWS
Paris in the Dog House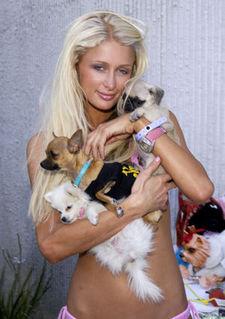 It appears that one-time jailbird Paris Hilton might have run afoul of the legal system once more. According to a report on TMZ.com, the L.A. Dept of Animal Services came a-knockin' on Paris' door on Thursday to investigate a complaint about her ever-increasing array of animals.
The complaint apparently stems from Paris' appearance on Monday's Ellen DeGeneres Show, where the Simple Life simpleton bragged about being the proud owner of 17 dogs, which would be all fine and good if it were legal in L.A.
Article continues below advertisement
Guess Ms. Hilton didn't know that, unless you're a breeder, you can't have more than three canines occupying the same home at once.
TMZ says that the Animal Services officer who attempted to pay a visit to Casa Hilton was told that neither the "actress" nor her menagerie of mutts were currently in residence because of ongoing construction in the home.