NEWS
Prince William And Prince Harry Honor Late Mother Princess Diana With Statue For Her 60th Birthday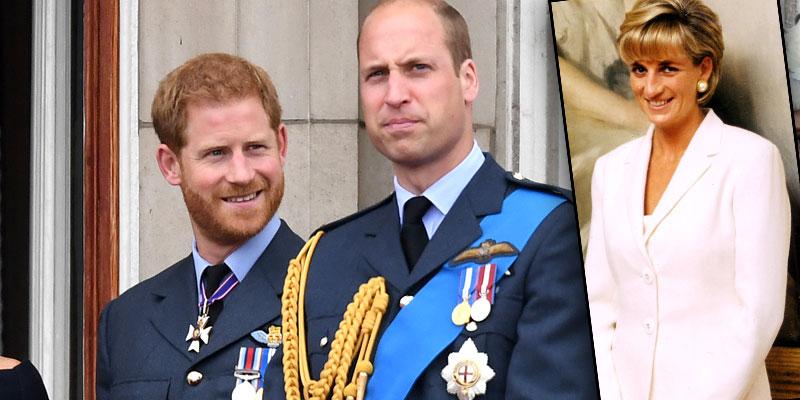 Prince William and Prince Harry are honoring their late mother, Princess Diana, with a special project — just days before the 23rd anniversary of her untimely death. "The statue that Prince William and Prince Harry have commissioned to to commemorate their mother, Diana, Princess of Wales, will be installed next year on what would have been her 60th birthday," a joint statement from Kensington Palace reads.
Article continues below advertisement
"The statue was commissioned to mark the 20th anniversary of her death and recognize her positive impact in the U.K. and around the world," the statement continued. "The statue will be installed in the Sunken Garden of Kensington Palace on July 1, 2021, marking the Princess's 60th birthday. The Princes hopes that the statue will help all those who visit Kensington Palace to reflect on their mother's life and legacy."
PRINCE HARRY MAKES HIS NETFLIX DEBUT IN 'RISING PHOENIX' DOCUMENTARY FOLLOWING SANTA BARBARA MOVE
The monument was announced three years ago, but it was delayed due to the ongoing coronavirus pandemic. The sculptor was chosen by a six-person committee, which included Prince William, Prince Harry, and Diana's sister, Lady Sarah McCorquodale.
Even though Harry, 35, and William, 38, don't speak about their mother too often, they admitted that her death — which occurred in 1997 — took a toll on them. The red-headed royal said her passing is still "a wound that festers" for him.
Article continues below advertisement
"I think being part of this family, in this role, in this job, every single time I see a camera, every single time I hear a click, every single time I see a flash, it takes me straight back," he said in a documentary. "So, in that respect, it's the worst reminder of her life, as opposed to the best."
PRINCE HARRY & MEGHAN MARKLE 'LAUGHED OUT OF HOLLYWOOD'
Harry has followed in his mother's footsteps over the years, including when he visited a minefield in Huambo, Africa, for the charity HALO trust, which Diana was a part of. "Being here now, 22 years later, trying to finish what she started will be incredibly emotional, but everything I do reminds me of her," he said at the time. "But as I said, with the role, with the job and the pressures that come with that, I get reminded of the bad stuff, unfortunately."
For his part, William spoke about how difficult it is to raise children when his mother isn't around to see them grow up. "Having children is the biggest life-changing moment. It really is," he said in the BBC One documentary, Football, Prince William and Our Mental Health, which premiered in May 2020.
PRINCE HARRY AND MEGHAN MARKLE CALL SANTA BARBARA MANSION THEIR 'PLACE OF PEACE'
"When you've been through something traumatic in life, that is, your dad not being around, my mother dying when I was younger, your emotions come back in leaps and bounds because it's a very different phase of life, and there's no one there to kind of help you," he shared.