NEWS
Rachel Uchitel Says She's Not Pregnant with a Tiger Cub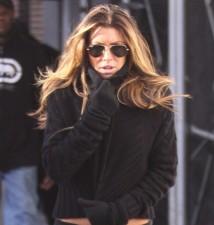 Rachel Uchitel, the first of Tiger Woods' alleged mistresses to come forth, sets the record straight about pregnancy rumors which surfaced about her today. "I'm not pregnant," Rachel told Gossip Cop, attacking the ridiculous rumor head on. The false account said Rachel told friends she was carrying Tiger's baby. "It's just hurtful that I'm not given the benefit of the doubt," Rachel recently told OK! exclusively.
Article continues below advertisement
"How you're judged by the nation… it's really difficult. It's really horrible."
Rachel has been exploited in Tiger scandal, and recently told OK! she has had enough of rumors.
"I want people to realize that I'm human and I have very good qualities about me that people are missing out on because those aren't the interesting ones for the story that everyone has been creating," she said.
Last week, Rachel was receiving phone death threats and threats on her Facebook page, bashing her integrity. Her Facebook page has been shut down.
At least she is not scared to stand up for herself and has spoken out. That is more than anyone can say for Tiger.