NEWS
'Real Housewives of Beverly Hills' By the Numbers: Taylor Armstrong Falls in Love and The Worst White Party Ever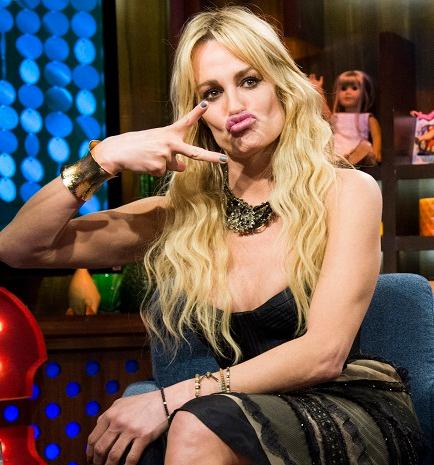 Greetings, RHOBHers! Was it just me, or was this season's White Party kind of underwhelming? I will even venture to guess that this wasn't the real White Party. That's right! I'm suggesting this was a staged White Party, designed to...well, I'm not sure. But still! No one seemed very excited and no one wished Mauricio happy birthday (that I can recall, anyway). Whatever, let's get to the numbers for episode 13.
Article continues below advertisement
3: Number of times Adrienne said "my husband would have done just as good a job."
0: Amount of sense it made (on an admittedly fabricated scale of sense) for Adrienne to haul her family into her giant Escalade and drive down the street where firetrucks were trying to get through to Lisa Vanderpump's old house.
12-18: Number of floating eggs/balls in the pool it takes to class up a party.
3.5 million: Approximate number of people who believe Kyle Richards thought inviting Brandi Glanville and Paul to the White Party would make great TV.
MORE ON:
real housewives of beverly hills
Article continues below advertisement
7: Approximate number of hours it seems to take Adrienne and Paul to get to Kyle's house.
100,000: Approximate number of times Adrienne said the word "karma." Is there a special kind of karma for people who always talk about karma despite deserving some pretty terrible karma themselves?
30: Amount it costs, in dollars, for me to get a spray-tan that doesn't stain my furniture. (And I'm crazy, I have an ivory couch.) Perhaps some of Adrienne's lawyer budget should go into a better-quality spray-tan budget? (PS, if this ever happened to me, I would be postively mortified. Adrienne seemed to think Lisa should just expect spray-tan stains and ask no questions.)
0: Degree of difficulty involved in not hiring a lawyer when you don't want to hire a lawyer.
7: Grade I was in when lots of girls were sporting heart necklaces like the one Faye Resnick was trying to make happen. I mean, I'm sure it was gazillions of dollars, but that doesn't make it cool.
1: Number of people I want to punch in the face whenever Adrienne wags her finger around and says, "That's not nice" and "Nonononononono." That guy Dwight is my first pick. Here are some words that don't ever make sense: "Let Taylor talk."