NEWS
'Real Housewives of NYC' Recap: London Clawing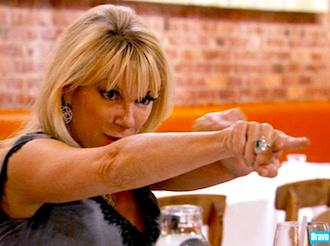 This new season of The Real Housewives of NYC is really making me miss the days of wacky Kelly Bensimon, social ladder climbing Jill Zarin and party crashing Alex McCord and her effeminate husband, Simon. The most "drama" this season has been able to wrangle so far is a half-baked (and rather boring) "fight" between newbie Heather and Ramona. What's this Cold War of arguments about? Ramona thinks Heather "talks too much" and because of this Heather (rather caustically) excluded her from a big Housewives trip to London.
Article continues below advertisement
OK! NEWS: REAL HOUSEWIVES OF NYC PREVIEW: WHO ARE THE NEW LADIES?
Understandably, Ramona is a little bruised. Being excluded from the big Housewife trip is cold. Really cold. It's practically housewife suicide. Ramona will lose out on all the amazing air time she could have accumulated embarrassing herself in Trafalgar Square and saying ridiculous things to the guards outside Buckingham Palace. It's a bummer for her and a bummer for us.
But not enough of a bummer for it to be a central theme of an episode. And not a big enough bummer for Ramona to throw a temper tantrum grade school style at a fancy cocktail party and pick fights with other housewives because they aren't boycotting the trip on her behalf.
Oh, Ramona — this is why nobody likes you and this is why Andy Cohen will never fire you.
There's a God awful scene at Sonja's magazine cover party (Sonja scored cover of Social Life magazine and threw herself a big congratulatory party), where Ramona blasted Sonja for going to London even thought she wasn't invited. When Sonja attempts to wave away the conflict seeing as, you know, she's hosting a party and all, Ramona and Mario gossip about Sonja and call her "an airhead" and she suffers from "diarrhea of the mouth" in Sonja's own bathroom.
MORE ON:
Real Housewives of New York City
Article continues below advertisement
OK! NEWS: REAL HOUSEWIVES OF NEW YORK RECAP — OH, RAMONA!
It's horribly tacky, considering they're in the lady's home and surely they must know Big Brother's prying camera microphone is never far away. The whole thing was just so absurd.
Speaking of Sonja — why on God's earth does that lady have an intern? Sonja, who turns more and more into one of the characters from Grey Gardens as the episodes pass, introduces us to some bouncy, young, blond in her early 20s who's fulfilling some sort of internship by feeding Sonja breakfast in bed, farming out her daily pills, and listening to her brainstorm new voicemail recordings. Life knowledge, my dear. Life knowledge.
So next week we'll likely hear more about Ramona and Heather's "talks too much" imaginary fight that's not even a fight and further expound on why Ramona is angry not to be invited to London.
Can't wait.