NEWS
Rebel Wilson Talks About Men, Clothes, Pet Peeves and Her Brand New Sitcom!
Article continues below advertisement
The 27-year-old star talks about the show and jokes about her real life in the September issue of Cosmo. Let's see what she has to say!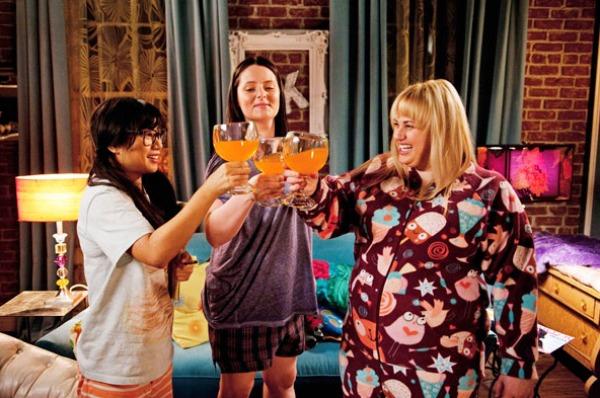 Cosmo: Lots of embarrassing things happen to your character on the show. Are any of them inspired by real-life events?
Rebel Wilson: "Oh my god, yeah. I'll often use my real stuff in my writing because it comes across as more authentic. There's a scene where my dress rips, and something like that happened when I first came to America. I got set up on a lunch with Jason Segal. He was the first Hollywood person that I got to have lunch with and chat about life with or whatever . So I thought, I'll try to look my best, and I wore my best leather jacket. When I sat down, a sharp edge on the chair snagged my jacket, and it just ripped. I was devastated but trying to hide it because I didn't want to ruin the lunch. I'm always ripping clothing. It's so embarrassing."
Watch: Rebel Wilson Went to Law School Just In Case Acting Didn't Work Out
C: When you're with friends at a bar or a party, how do you approach guys you like?
RB: "My character on the show and her friends are kind of dorky and socially awkward. And even though, yea, now I am in movies or whatever, I am still that girl. People think you're really confident because you're an actress or whatever, but I'm like the worst. Although the good thing about being recognizable is that people approach me, which is good. Also, I watch that show Millionaire Matchmaker, and they say the girl should never approach the guys."
Article continues below advertisement
C: Activities that are not fun:
RW: "Trying on bikinis at a shopping mall. Entering novice fight tournaments (if you get punched in the face, you'll instantly see why this is not fun.) Eating at an unlicensed food truck. As a rule, carefully vet all street-meat options ahead of time. Going out to any place you think you won't get in. Exclusivity and/or over-crowding is not Super Fun. You don't want to go there anyway. Stuff them!"
OK! News: The Five Funniest Things Rebel Wilson Has Ever Said
C: Things to wear on a super fun night:
RW: "Sportswear. If there's a sudden need for a burst of cardio (e.g. running away from someone you really want to avoid), at least you'll be ready. Underwear. Just wear it. Always. Draw attention to your best assets. Don't be afraid to use a strategically placed LED light to pint the way. A high ponytail. It looks banging. It keeps you from overheating, and it looks mad cool in head-swinging dance moves."
Read more of Rebel's interview here!
Will you watch Rebel's new sitcom this fall? What do you like most about the actress? Follow me on twitter for more celebrity interviews, and then share with us in the comments section or tweet us @OKMagazine.