NEWS
Red Carpet Confidential: Drake Bell Reveals The Truth About Amanda Bynes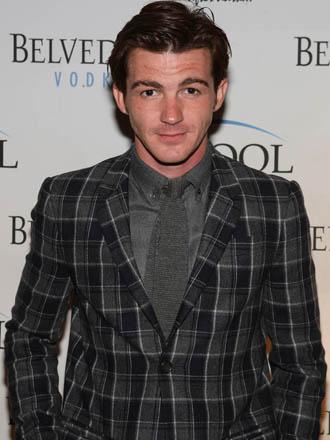 Article continues below advertisement
He sets the record straight about what's going on inside her head.
Despite speculation that the 27-year-old starlet has no one to turn to as she unravels, Drake insists they maintain a close relationship after appearing together on the Nickelodeon show from 1999-2001.
"Amanda and I are close," the outgoing actor, who is wearing a plaid suit and purple socks, tells me. "We worked together for years. I talk to her every day. She's a sweetheart. I had lunch with her yesterday, and she's brilliant. She's good, and she's healthy."
OK! GALLERY: SEE DRAKE AND OTHER FORMER CHILD STARS INCLUDING BRANDY, TAYLOR SWIFT, RIHANNA, BRITNEY SPEARS AND MORE IN THE VALERIE GALLERY
In fact, he even invited her down to the resort to spend the weekend with him.
"I actually talked to her this morning, told her I was coming into Jersey," he says. "She's living in New York, so I said 'come hang out in New Jersey.' Unfortunately she had a few commitments tonight. I wanted her to come and she was like 'Oh my God, I so would,' but she had some things to do tonight, and we're on different coasts, so it's hard. But Amanda is a beautiful, artistic, funny soul."
Article continues below advertisement
So what's the deal?
"She's in a place right now where she is searching," he says. "She's ready to be her own person, and do her own thing. She's experiencing life for real, without the spotlight, for the first time. She is a girl who is finding herself."
OK! GALLERY: 11 CHILD STARS REACT TO THE AMANDA BYNES SITUATION
Still, the constant coverage of her bizarre behavior is cause for pause.
"It hurts me and it upsets me, because I look at her and talk to her, and we'll sit down for lunch or dinner, and I'm like 'Amanda, what is going on?' And she's like 'whatever.' She's the same beautiful, funny, artistic, thoughtful person that she's always been, but she decided to change her hairstyle. She got a bad hairdo and shaved her head, so she had to get extensions. Now everyone's like 'oh, you're crazy.'"
He continues, "I'm like 'dude, you come off crazy.' She's like, 'I know, but I don't mean to. I just changed the way I look!'"
OK! GALLERY: REMEMBER HIM? THE 8 HOTTEST CO-STARS OF AMANDA BYNES
Although her recent arrest, combative tweets and plastic surgery statements signal deep distress, he chalks up all the negative attention to her altered appearance.
"If tomorrow I came out and I was tattooed all over, everyone would go 'oh, he's crazy. He's nuts.' And I go, 'no, I just wanted tattoos.' She got piercings in her cheeks, and I'm talking to Amanda who says 'I just wanted piercings in my cheeks. Big deal.' I'm like 'honey, everyone thinks you're a drug addict, loony and all that—and she's not.'"
Article continues below advertisement
He insists she doesn't have mental problems.
"No, no, no, no, no," he says. "Let me follow you for 24 hours with a camera. Let me see what you got. If I followed you for 24 hours, you'd probably be like 'get the f*** away from me.' But Amanda's a beautiful soul. She's funny."
Plus, he swears he's never witnessed strange behavior.
"Nothing," Drake says. "Anytime I've ever been with Amanda, she's totally coherent, totally there, totally everything."
OK! GALLERY: THE 25 BEST COLLEGE AND COMING-OF-AGE MOVIES
Wait, so there's no reason for her family should step in and have her committed to rehab or a mental health facility?
"She definitely has an issue with the family, but everybody does," he says. "Everyone has issues with their family, but that's not what it is."
He feels one thing can get Amanda, who is known for her physical comedy, back on track since she left her acting career behind in 2010.
Article continues below advertisement
"She needs to get out of retirement, and make us laugh again, because that's what she's brilliant at," Drake says. "Amanda Bynes is brilliant at making us laugh, and that's what she needs to do. She's great at it."
He adds, "The closest to Carol Burnett in our generation is Amanda Bynes. She's brilliant, she's a genius, she's funny as hell."
Perhaps it is the public who is being played, and she will benefit. After all, Nicole "Snooki" Polizzi and Kim Kardashian have expressed their delight at her recent antics.
"It really hurts me seeing what is being written about her, but on the other hand, like Laurence Olivier says, any press is good press," he remembers. "It would make me happier if I knew that she wanted that, but she doesn't."
I hope Amanda gets it together. I met her during the Hairspray premiere in 2007, and will never forget—she was so tall! She was completely lucid, and had piercing blue eyes.
With that, dapper Drake heads into the club, where he trots across the stage to bust some moves as songs like classics Ain't No Mountain High Enough and I Feel Good, plus 2 Chainz I'm Different play.
Article continues below advertisement
He's another impressive host: He orders a few trays of Fruit Loop vodka sorbet Sprite shots and passes them out to the crowd. He even twirls around female guests attending a bachelorette party. Gotta love him!
Visit The Pool After Dark at Harrah's Resort Atlantic City to party with the stars. It's my favorite place in the world! Hosting next is DJ Pauly D (June 22) and Ross "The Intern" Matthews (June 29).
What do you think— is Amanda Bynes sane or insane? Tweet us @okmagazine.