NEWS
Red Carpet Confidential: Mayim Bialik Weighs In On Jessica Simpson "Sexualizing" Pregnancy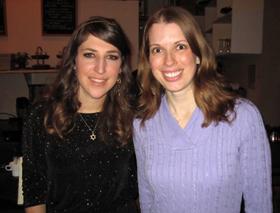 Mayim Bialik has mixed feelings about Jessica Simpson and other stars who bare their nude bodies on magazine covers just before they give birth.
"I think the pregnant body is beautiful," the married mom of two, 36, told me Thursday at her Beyond The Sling book launch party held at NYC's Café Blossom. "I think our culture is obsessed with bodies looking skinny and completely non-mom, so I think it's an amazing celebration of pregnancy and womanhood."
Article continues below advertisement
She adds, "On the other hand, I don't know that we need to sexualize it, because that's also confusing. Part of the concern with breastfeeding is that people think it's so sexual, and it's going to sexualize it."
OK! NEWS: JESSICA SIMPSON POSES NUDE AND ANNOUNCES SHE IS HAVING A GIRL!
For Mayim, breastfeeding is a cause that is close to her heart, and she claims she would nurse a child anywhere she would feed a bottle. Not only does the Big Bang Theory star, who has earned her PhD in neuroscience after starring on '90s sitcom Blossom, serve as a lactation educator, but she still breastfeeds her son Frederick, who is 3 years and seven months old.
"He does not breastfeed at night anymore, but I pumped until he was three, and he now breastfeeds not every day — sometimes a couple times a day. I don't breastfeed him in the middle of the supermarket if he asks to, so it's something that's done with more privacy now. He's definitely on the path to weaning, so to me, it's part of his natural progression towards becoming a big guy. But again, there's nothing inherently, scientifically wrong with it, and it's worked really well for the thousands and thousands of people who have breastfed toddlers."
Article continues below advertisement
Mayim isn't concerned with setting an age limit to when she'll stop.
"I think that all the trends are leading towards him weaning. If he was still nursing as frequently as he was three years ago, then I would definitely feel like 'oh, I want to put some boundaries down.' We already have put a lot of boundaries down. I don't breastfeed him whenever he asks, and I often will offer him food or whatever if sometimes he's hungry or thirsty. Those are all the natural things that we do to set boundaries to encourage a child to learn about the weaning process."
Article continues below advertisement
What does she say to those who say the age of 3 years and 7 months is too old to nurse a child?
"Thank you for your opinion, and again, there's no scientific evidence proving that he's not going to be an OK person if he nurses into toddlerhood. Again, we don't all have to agree on what we have to do, and anytime the conversation becomes about judgment or 'it's wrong,' I think it takes away the valuable information that moms can interact with about."
Other benefits to nursing include "less ear infections, supercharged immune systems, and for the moms, lower rates of bone fractures, ovarian and breast cancer."
Hm, aren't kids who nurse smarter than those who don't?
"There are long-term studies that indicate shifts in IQ," she says. "I don't like to use those statistics because I think there' a lot of other factors that need to be considered, and I think for me, that's not the reason I would do it. The things that we know are true are that breastfed babies have. It's super beneficial, and that we already know already, without having to get into 'my kid will be smarter than your kid.'"
Article continues below advertisement
OK! PHOTO GALLERY: BLOSSOM: WHERE ARE THEY NOW?
The live-and-let live philosophy melds with her attachment-parenting book, which preaches acceptance.
"You are the best decider of what works for your family," she says. "Not me, not what I do, not parenting books, not doctors who are not living in your home. I'm really trying to emphasize empowering people to make their own decisions based on their kids, and their personalities."