NEWS
Red Carpet Confidential: Tony Lucca, Debbie Gibson & Ali Fedotowsky Share Best Father's Day Gifts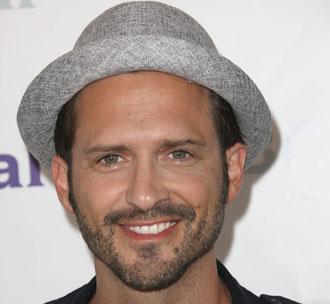 Looking for a gift to get dear old Dad for Father's Day today?
Ali Fedotowsky, Debbie Gibson, Tony Lucca, Jermaine Paul and Dee Snider weigh in with the best gifts for pop.
"Probably a plane ticket to come see me," NBC's 1st Look host Ali tells me. "My dad recently moved to Irvine, Calif., so he's a lot closer to me now, but for a while, he wasn't, so I think being together is the most important thing. It was at a time when I couldn't travel because I had other things going on, so I think being able to have my dad with me – I mean, it's a gift to myself, too – but I know that's what he wanted. Same with my mom – on Christmas this year, I did the same thing for her, because that's what's important. Who cares about the material things? It's being together."
Article continues below advertisement
OK! BLOGS: RED CARPET CONFIDENTIAL: WHY ALI FEDOTOWSKY CAN'T SETTLE DOWN
Meanwhile, Rock of Ages star Debbie stays practical.
"A gift card to Costco," she says with a laugh. "Because dads are practical. My dad lives in Florida, he has no use for a tie anymore, you can't buy him shirts. I don't claim to ever know my father's style or his taste. It's so practical. I'd want to get him something more visually stimulating than he'd ever want to wear, so for me, I know he goes to Costco. I visited there last year, and he made me a piece of fish that came from Costco. I just think dads are practical, and a gift card for dad is a great thing."
She adds, "Once I got a photo of he and I in a frame. I think that's a great gift, too. Fathers love their daughters, and love commemorative photos."
OK! BLOGS: RED CARPET CONFIDENTIAL: DEBBIE GIBSON READY TO JUDGE AMERICAN IDOL
Of course, sentimentality gets The Voice finalist Tony, whose kids Liam and Sparrow were mainstays in the audience during the NBC competition.
"My son is really thoughtful, and he comes up with great ideas," he tells me. "He made me an early Father's Day gift when we were out in California during the show. He partnered up with a lifelong friend of mine who boards horses up at Sunset Ranch in Beachwood Canyon in Hollywood. They spent the day kicking around like cowboys, going out on the trail like horses and doing all this leather work. He made me a wallet chain with a leather snap thing that goes around the buckle, and then the chain doesn't lead to a wallet, though. It leads to a pick wallet laughs – this little piece of leather shaped as a pick that has a snap on it. You open it up, and it holds guitar picks. I can wear that, and look like I'm rocking a chain wallet, but when I'm onstage, and I need a pick, I'll whip it out. laughs I'll bust out a guitar pick. I'm like, 'Dude, that is awesome. Very good, buddy.'"
Article continues below advertisement
What did the gift mean to him?
"Well, it's thoughtful on a lot of levels. Here he was, working with a friend of mine, making stuff, and he thought to not make something for himself, but to make something for me. That alone is pretty telling. But then, to incorporate the chain wallet, which, in his opinion, is one of the coolest things on Earth, it's totally rock 'n' roll – to incorporate that into the design and to have something functional, and something that I would use as a pick wallet is like 'wow, man, that's really impressive on a lot of levels. You made me proud.'"
Hmm, wonder if the kids will join Tony on tour this fall?
OK! BLOGS: RED CARPET CONFIDENTIAL: TONY LUCCA REFLECTS ON HIS 'UNFORGETTABLE' EXPERIENCE ON THE VOICE
The Voice winner Jermaine admits his best Father's Day gift was a pet.
"I got a Rottweiler named Diva," he says. "She is the absolute best Father's Day gift I ever had. About seven years ago, I got a full-bred Rottweiler, which I always wanted since I was a little boy. I always told my wife I wanted it, and we never could get one because the kids were so little. And the wife didn't want one. But yeah, she got it from somewhere in Oklahoma or Kansas somewhere, had the dog fly into New York, and she picked it up from JFK. That's why we call her Diva – because she got flown in. laughs We had her from when she was a baby, and the kids grew up with her. She's amazing with the kids, and amazing at the house. She sleeps in the bed when I'm not home, with the wife, and takes care of the house when I'm gone."
Article continues below advertisement
Not high on cash? Never fear – Celebrity Apprentice star Dee doesn't need material things.
"The best Father's Day gifts I have ever received have been the written words," Dee says. "I can afford to buy anything that I want, but I've got some cards from my wife and my children. There's a card, and what they write inside the card that just blows my mind. As a guy, you try to do the best we can, but we screw up. Some of the things that they've written to me and said to me on a personal level have meant more to me than anything you could possibly buy."
Hmm, what did they say?
"Most of my kids have said 'you're my best friend,'" he says. "That's inconceivable to me, because my father was not my best friend. And I'm also not an easy father. I'm pretty strict. I mean, they told me at school, I'm one of the toughest fathers they know. When you're who I am, it's easy for things to get crazy. It's not like I let them do anything they want and I'm their best friend, so that's pretty flattering."
Happy Father's Day, everyone!