NEWS
Red Carpet Confidential: Why Ian Ziering Isn't Setting Up His Beverly Hills 90210 BFF, Jennie Garth, on Dates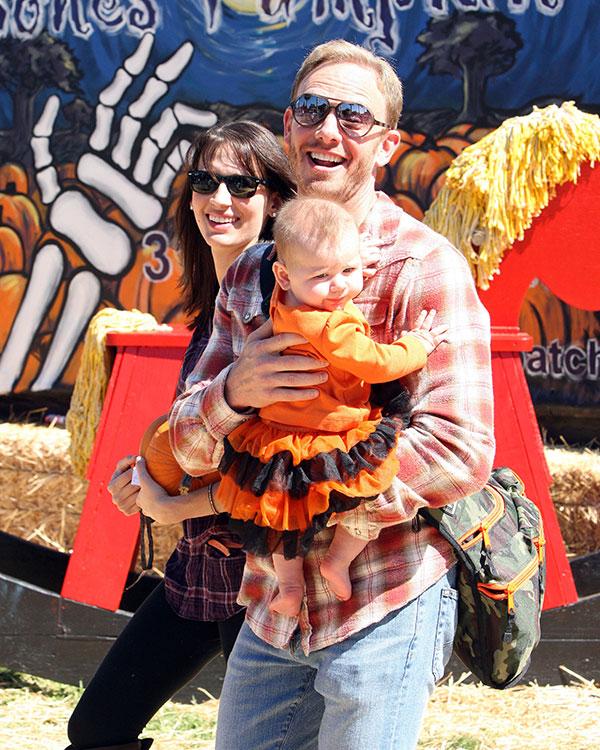 Ian Ziering is getting ready to celebrate seven-month-old daughter Penna's first Christmas with wife Erin and their two-year-old daughter, Mia.
"My wife grew up on a Christmas tree farm in Ohio," the thoughtful Sharknado star, 49, tells me during The Baby Issue New York luxury celebrity gift suite held at W Hotel Union Square in NYC. "We're taking the circus to Ohio to spend Christmas on the farm, where we'll go sleigh-riding, tobogganing and ride horses around the Christmas tree farm and have a blast. It's a winter wonderland!"
Article continues below advertisement
Photos: The Beverly Hills 90210 Cast Reunites at Chippendales!
Not only does Ian look forward to Christmas, but he also celebrated Hanukkah.
"It's easy," he says. "I was born Jewish, and my father is a Hebrew school teacher, so it's always going to be important to me, but I have no problem celebrating other people's holidays."
He continues, "Being that Erin grew up on a Christmas tree farm, I think it's a blast. She's an unbelievable Christmas tree decorator, so we've got several Christmas trees, and several Hanukkah menorahs around the house. It's a great holiday."
What do the girls want this year?
"Mia wanted a telescope, but where I live in Los Angeles, you can't see anything, so for Hanukkah, we had a night out, and took her to the Griffith Observatory. She's in preschool now, so she learns about outer space. Whenever she gets excited about something, I do whatever I can to immerse her in the concept of theory or the topic, to have her gain an understanding of what it is she's talking about."
Article continues below advertisement
Photos: The Biggest Celebrity Cheating Scandals
As for the his younger daughter?
"Penna's easy. She wants more of mom's milk, and more of dad's loving arms."
Hopefully for Ian, the holiday season will include the gift of Sharknado 2.
"Haven't started filming it yet," he says. "Still in negotiations. They haven't settled a deal right now. I know they want to shoot it in Manhattan. Before it was shot in Los Angeles. We're trying to hammer out a deal right now to make the movie happen. Hopefully we'll get to that point, and be in production soon."
One thing he hopes for in the near future is for his Beverly Hills, 90210, co-star and good pal Jennie Garth to find a suitable man after her 2012 split from hubby Peter Facinelli, who is the father of her three daughters.
OK! Exclusive: How Peter Facinelli Gets Along With Jennie Garth Post Divorce
"I don't know any single men," he says. "If I knew a guy, I would absolutely hook them up—she's a catch. She's a good woman. She's a solid mom, she's got solid morals, solid values, she's responsible, she's productive. She's ambitious. She's got all the qualities I'd look for in myself. She's great."
Article continues below advertisement
MORE ON:
Red Carpet Confidential
"Jennie's good," he says. "Jennie's strong. She's going to land on her feet and succeed in any environment, under any condition. I love Jennie!"
Naturally, he's protective of her as she re-enters the dating scene.
Does he envision her with someone like George Clooney or more of a regular guy?
"I don't know, but he'd pass the test, otherwise he's going to have to answer to me."
Here's my pic with Ian during the event:
What do you think Ian is like as a dad? Do you think he should set Jennie up with his famous friends? Tweet us @OKMagazine.