VIDEOS
Red Carpet Confidential: 90210's Ian Ziering Dishes On Reuniting With Jennie Garth and Shannen Doherty at Chippendales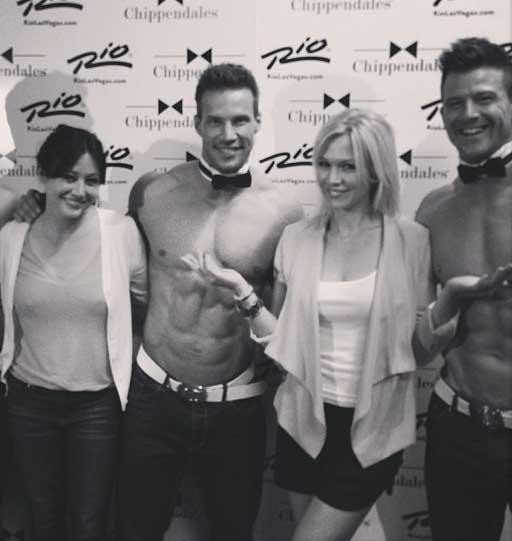 Ian Ziering received extra applause the night his Beverly Hills, 90210 co-stars Jennie Garth and Shannen Doherty sat front row during his Chippendales performance at Rio Las Vegas Hotel and Casino.
First, the former co-stars dined together at Martorano's at the Rio, where the girls told him to "break a leg." Then, it was showtime!
OK! Exclusive: Ian Ziering on Working for Chippendales
"I had the girls pulled onstage a couple times to be used in a few of the acts," the actor, 49, who hosts the male revue, tells me this week. "They were so shocked! It's a very interactive show, so they were brought onstage to sit while the men danced around them."
Article continues below advertisement
He adds, "Just the expressions on their face—Jennie being so shocked but delighted, and Shannen holding onto her chair for dear life while the men are dancing around her—were so fun. They loved it! They didn't know what to expect. They approached it with a bit of trepidation, but once the music started and they saw what it was all about, they felt safe enough to let their hair down and lighten up a bit. They were up out of their seats, and dancing like everybody else in the theater."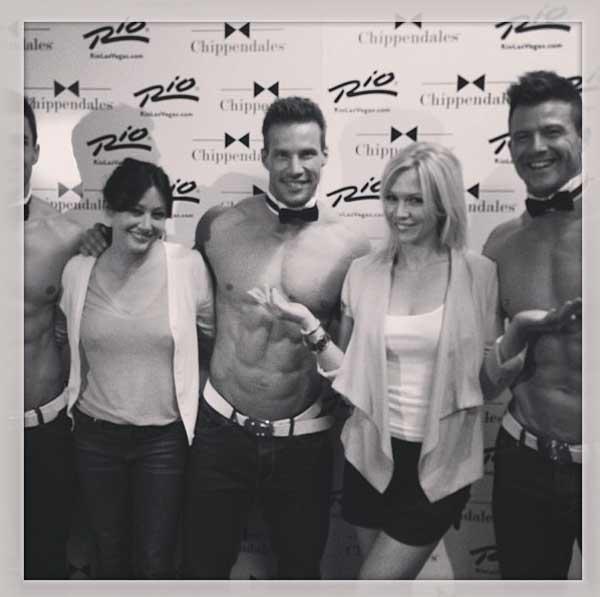 Seeing Jennie and Shannen is commonplace for Ian, who remains close to the cast of the Fox show, which aired from 1990-2000.
Still, he appreciates their effort to fly out from L.A. to see his Vegas performance.
"To be with old friends is very warming and comforting," he says. "It's like wine. It gets better with time. With time comes an appreciation and an acceptance. It's an overall deepening of the love you have for these people. Every time we come in contact, we bond a little more."
Article continues below advertisement
OK! Exclusive: Ian Ziering Dishes on Being a Dad
Turns out, Chippendales could become a way of life for the married father of two, who says it's "very flattering" that he is talks to host the show in Europe and perhaps return to Vegas next year.
One person who is in the spirit is his two-year-old daughter, Mia.
"I had my daughter Mia on the Chippendales stage," he says. "She takes ballet class in Los Angeles, and she got up onstage. It was funny because she threw her hat down, and then she started taking her beads off her neck and flailing around. It was like 'oh my God, she's a Chippendale!'"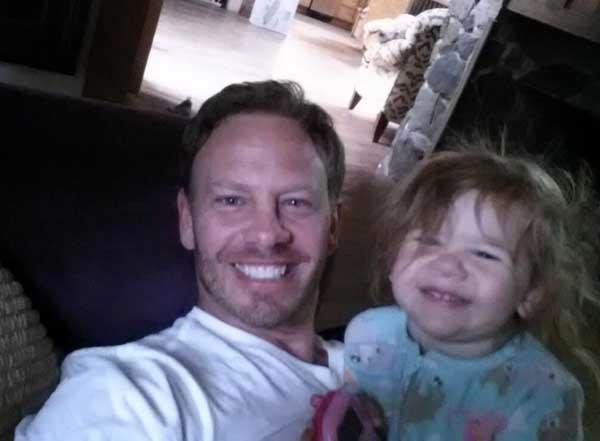 MORE ON:
Red Carpet Confidential
His nurse wife, Erin, is also game.
OK! News: How You Can Rewatch Laguna Beach and The Hills This Summer
"Now that I'm in Chippendales, she cooks and prepares foods for the family that are healthy, like salads," he says. "Instead of using olive oil or butter, she'll use coconut oil, which is a better fat. Moving us to more organic produce and meats, away from things that may be contaminated with growth hormones, pesticides or chemicals. She is shopping in more of the edges of the supermarket rather than shopping on the aisles."
Article continues below advertisement
So far, he has lost 30 lbs. by eliminating junk food and bad carbs (flour, pasta and bread), eating a protein, fruit and vegetable-heavy diet every three hours, and doing a CrossFit workout twice a day.
"I went from 207 lbs. to 178 lbs. right now, down to a 31 inch waist, where I was a 33 inch waist," he says. "Twenty-three percent body fat down to 15% body fat. If there is something in the future with this global brand, this Chippendales machine, of course I'm going to keep up the intensity and I think I'd like to put more muscle on."
His co-workers keep him motivated.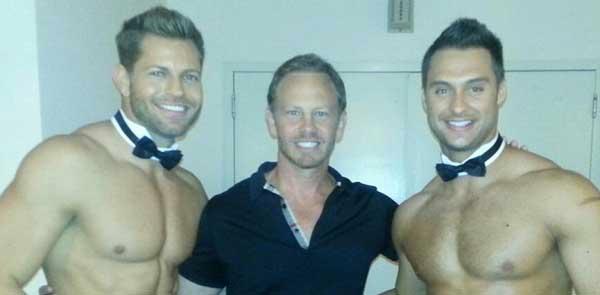 Photos: Love Lessons Learned from Saved By The Bell
"I think I'm doing OK, but when I stand onstage next to these guys, who are carved out of marble – when I see pictures, I'm like 'gosh, I'm so scrawny.' It's amazing. I'm not trying to play keep-up-with-the-Joneses—I don't have any kind of body dysmorphic complex, but if I'm going to do it with all the professionalism and the intensity that I bring to any character that I'm playing—you know, I'm playing a Chippendale—it means doing the same. I want to bring that same level of professionalism and intensity to this character."
He continues, "It goes from belly rolls to—sumptuously shoulder rolls."
Catch Ian hosting Chippendales at Rio Las Vegas through July 14.
Have you seen Chippendales? What did you think of Ian being in the show? Tweet us @OKMagazine!