NEWS
Reese & Jake: Having Fun With Romance Rumors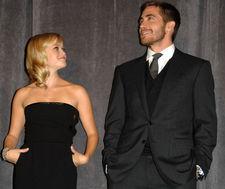 From the moment news hit the wire that Jake Gyllenhaal and Reese Witherspoon would both be starring in a film together, the gossip mill went into overdrive with rumors of an on-set romance between the handsome young actor and the Oscar-winning beauty, who had recently split from hubby Ryan Philippe. But what many whisperers didn't know was that the rumored lovebirds don't even share a single scene together in the film, Rendition, which is premiering at the Toronto Film Festival this week.
Article continues below advertisement
"It would've been nice to work with her," Jake told reporters about Reese, who was equally sad not to share screen time with the film's other marquee star. "I found out I was doing a movie with Jake Gyllenhaal and didn't have any scenes with him — darn it!" she recalled. "But hopefully it opens up room for us to do a movie together."
At a press conference for the film, both stars laughed off reports of a love match. "It's crazy and funny how much people can make stuff up," Reese explained. "I'm actually interested to hear what they say next."
Jake, who has never discussed the topic publicly before, says the only way to deal with the gossip is to take it lightly. "There are a lot of very interesting rumors swirling around all the time that you just have to have fun with," he says. "The interest is flattering but funny too."
Rendition opens stateside Oct. 19.