NEWS
Report: Nancy O'Dell Didn't Plan on Taking Lara Spencer's 'ET' Job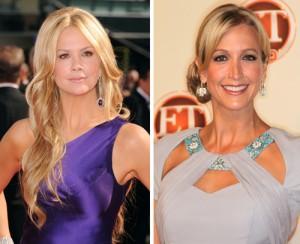 Lara Spencer was the expected replacement of Mary Hart on Entertainment Tonight, but instead the job was given to Nancy O'Dell. But Nancy says the switch wasn't planned!
OK! NEWS: NANCY O'DELL TO REPLACE MARY HART ON ENTERTAINMENT TONIGHT
Last December, Nancy quit her job on Access Hollywood when she had two years still left on her contract.
"And I'm sure 'Access' wouldn't have let me out of my contract if they had known" that ET was interested," Nancy said with a laugh to The New York Post (via Fox News).
Article continues below advertisement
The ET job was thought to be taken by Lara and Linda Bell Blue, the executive producer of ET, even reportedly urged Lara to move her family to L.A. with a promise for the job.
However, an industry insider reports the decision to pick Nancy over Lara was made by CBS boss Le Moonves, who reportedly believed Nancy had the best contacts with celebrities.
OK! NEWS: LARA SPENCER TO REPLACE MARY HART?
And Nancy reportedly said she had no idea she was in the running for the job with she left Access.
"I had feelers out there and had taken meetings," she explained.
But she was ready for a change.
"It didn't feel like the right fit anymore," Nancy said of Access. "I think after you reach a certain level of maturity and a certain point in your career and you know what you want and what you feel good about, you know when it's time to make a change."
"ET is the gold standard," she added. "Celebrities trust it and they know what they're going to get when they go on. Obviously, audiences like it too."
Article continues below advertisement
OK! NEWS: NANCY O'DELL ANNOUNCES DEPARTURE FROM ACCESS HOLLYWOOD
And she's happy with her decision.
"The people feel right, the executives feel right, the fellow correspondents feel right, the way the show is, the classiness — feels right," Nancy explained. "It was such a great confirmation. Yeah, I felt I made the right decision."
"Everybody already thought I worked at Entertainment Tonight anyway," she added. "It was frustrating when I worked at Access. . . I would walk through an airport and people would say, 'Nancy O'Dell! Da-da-da-da-da-da!' They'd sing the Entertainment Tonight theme song!"
Maybe it was meant to be!