NEWS
Report: Prince Harry Hooked Up With D.C. 'Real Housewife'?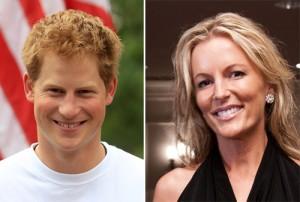 According to the former nanny of Catherine Ommanney, The Real Housewives of D.C. star reportedly had an affair with Prince Harry.
OK! GALLERY: PRINCE WILLIAM AND PRINCE CHARLES STEP OUT FOR CHARITY
According to Radar Online, Catherine's former nanny says she use to be picked up by a chauffeur driven limousine sent by Prince Harry to secretly see him.
"Although she was my boss, when she was really happy she would share things with me, like what happened with Prince Harry," former nanny Monica Herrero told Radar Online about how she's watch her two children while she met with the prince.
Article continues below advertisement
"She would show me messages that he sent her, and she said that he wanted to take her hand and travel around the world."
OK! GALLERY: HOUSEWIVES ABOUND AT BRAVO UPFRONT PARTY
In 2007, Herrero was the nanny for Catherine's two girls, Ruby and Jade, in London.
"While I was living with Catherine a car with a chauffeur came for her twice," she said. "Her daughters would tell me, 'This is the car that Prince Harry sends for mummy.'"
And she reportedly talked about kissing him saying, "He was holding me off the floor, kissing me. I was absolutely speechless. I was against the wall, and he literally lifted me off the floor and gave me a lovely kiss which I was stunned by."
"It was a lovely kiss... Afterwards I didn't say anything," she reportedly said to Herrero. "I was genuinely, completely blown away."
OK! NEWS: ROYAL ENGAGEMENT PHOTOS — PRINCE WILLIAM & KATE MIDDLETON POSE WITH A PURPOSE
Article continues below advertisement
Although Herrero said Catherine had a boyfriend at the time, she would brag about other men like Prince Harry.
"Catherine told me that one time that she kissed Prince Harry in a bathroom," Herrero said. "She told me she met him because she doing interior design for him, even though I never saw her doing any work."
But Herrero says she didn't think much of Catherine's interaction with the prince at the time because "she was my boss, not my friend."
What do you think about this new report? True or false?