NEWS
Robert Pattinson Explains Flirting With the Elephant in 'Water for Elephants'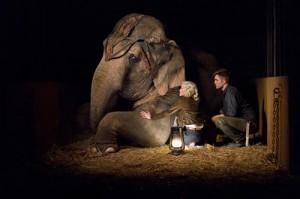 Article continues below advertisement
The actors were asked what it was like working with a such a large animal co-star and Reese, Christoph and Rob had slightly different experiences — Rob more than others!
So what was it like working with Tai the elephant on their first day?
"Well, Frances Lawrence, director and I went out and visited Tai probably three months before shooting, or four months before shooting and he brought a camera and I said, 'Wonder why he's bringing a camera?' "Reese explained to reporters.
"Then, he took pictures of me every moment, the first experiences I had of meeting her and her picking me up. Did he do that to you too?" Reese asked Rob.
"Yeah," Rob replied.
"Yeah. Then, he sent me the pictures and I was like, 'Oh, my gosh,' so I have this sort of memory of the first time and I was terrified," Reese shared. "I looked terrified, basically."
"You were?" Rob asked.
"Oh, the first time I was terrified, yeah, I screamed," Reese admitted.
Article continues below advertisement
"That's so strange," Rob said.
OK! NEWS: REESE WITHERSPOON ON ROBERT PATTINSON BEING "DIRTY" — "IT'S A BOY THING, RIGHT?"
"I don't think I was scared at all," Rob added. "If there was any one moment, I think when we first saw the whole pack of elephants in the herd together and Gary, Tai's trainer said, 'Sit,' like literally as if you were talking to a dog and it sat down in exactly the same way a dog would. I mean, it's totally incomprehensible when you see it and I basically decided to do the movie at that point. I hadn't read the script or anything. Yea, it's very powerful thinking that you can have a relationship with these huge beasts."
As for Christoph, he tried to keep his distance from the elephant.
"This animal has one relationship with a human being only, one, and that's her trainer. The rest of us are just there," Christoph explained. "I didn't work with an elephant, I worked next to an elephant. Considering that she could step on your toes, it's a good idea to keep a certain distance. It's also a good idea to befriend the trainer."
Article continues below advertisement
"Now, in this case, it just happens to be that this trainer is one of the most extraordinary people you could meet," he added. "So, I did what he said. I did. I thought it was a good idea to do exactly what he tells me to do to refrain from any further endeavors."
OK! VIDEO: WATCH ROBERT PATTINSON & REESE WITHERSPOON PRESENT AT 2011 ACMS!
But Rob was a little more adventurous and was said to have "flirted" with the elephant!
"I'm not so sure who started this thing. This sounds so strange!" Rob explained of the rumors going around of him flirting with his animal co-star. "I mean, I've been asked about it all day. It sounds really disturbing! It's like I'd be flirting with the elephant."
But, Rob does admit to having a relationship with the elephant.
"You're (to Christoph) always saying that no one has had a relationship with the elephant. I think I had a relationship with the elephant," he explained. "It was kind of based purely on candy. I strategically placed mints, like you suck a peppermint for a bit and then, stick onto your body, like under my armpits, like covering my entire chest all the time, and not tell anyone. So, every single time, the elephant would be constantly sniffing me. I'm like, "I don't know. She just really likes me. It's crazy." But, yeah, I think she was just sniffing around for treats."