NEWS
Watch Robert Pattinson & Reese Witherspoon Present at 2011 ACMs!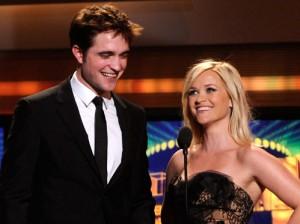 Article continues below advertisement
"Thank God, you're here! I overshot the mark. Hi everybody, so great to be here tonight, Reese said. "Well we were lucky enough to shoot part of our new movie, Water for Elephants, in Tennessee and I was just wondering what part did you enjoy the most, Rob?"
"About Tennessee?" Rob asked.
"Yeah!" Reese said.
"I liked drinking a lot of moonshine," Rob said.
"That's right," Reese said. "Yeah! What else did you learn about Tennessee?"