VIDEOS
Twilight's Kiowa Gordon Talks Kristen Stewart & Rob Pattinson's Interaction with Mackenzie Foy!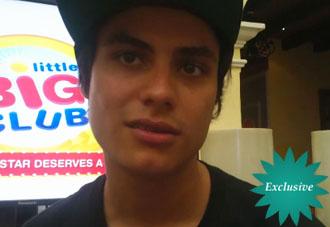 With only four months left until the final installment of The Twilight Saga hits theaters, OK! got the chance to catch up with Kiowa Gordon — who plays Embry Call in the beloved franchise — about what we can expect from Kristen Stewart and Robert Pattinson in Breaking Dawn - Part 2.
Kiowa attended the Summer with the Stars event at Aventura Cove Palace in Riviera Maya, Mexico and filled us in on what Kristen and Rob were like interacting with their on-screen Renesmee, Mackenzie Foy.
Article continues below advertisement
Kiowa said he and "the wolfpack," including Taylor Lautner, still hang out and continue to work on those killer abs together!
"Me and the wolfpack go out to eat dinner, work out, we go to the same auditions like every week… 'Cause we all look similar!"
As for how he feels now that the franchise has finished filming, Kiowa confessed "it's sad."
"It's bittersweet. I'm glad that I can finally go out and do other things, maybe even bigger, but that's kind of impossible," he joked. "I don't know, it's good to be ending it. We're finally showing the finished work, so it's good to see that."