NEWS
Rumor Patrol: Eminem Not Rekindling Relationship with Ex-Wife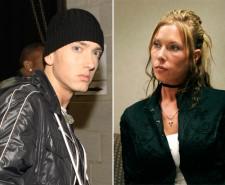 Recent reports claiming that Eminem and his ex-wife Kim Mathers are back together and that she's expecting his baby have been confirmed to be false.
It's "completely untrue," a rep for Eminem told Gossip Cop.
One report falsely claimed that the former married couple was "desperately trying to keep the news a secret."
Eminem's entourage has also put out an official statement to help keep the untruths from spreading.
Article continues below advertisement