NEWS
Russell Simmons Writes Letter to Kanye West After 'Today' Show Interview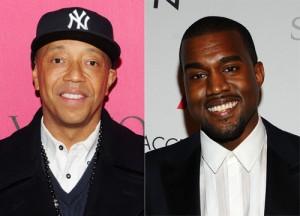 Kanye West's Today show interview with Matt Lauer regarding his comments about George W. Bush has fans divided. But Russell Simmons wants everyone to know he's 100 percent behind Kanye. OK! NEWS: KANYE WEST — "I AM NOT PERFORMING ON THE TODAY SHOW"
The hip-hop mogul wrote an entry on Global Grind titled, "Dear Kanye...An Open Letter By Russell Simmons" that clearly states in a very long letter exactly what he thinks of Kanye's latest incident.
Article continues below advertisement
OK! NEWS: MATT LAUER SAYS "WE STAND BY WHAT HAPPENED WITH KANYE WEST"
After Russell praises Kanye for his work and says he is in "awe" of it, he then addresses Kanye's Today show interview.
"With this power, as you know, comes great responsibility," he continues. "I am saying nothing you haven't heard before. When you spoke about President Bush during the Katrina telethon, it was not the particulars of your words that mattered, it was the essence of a feeling of the insensitivity towards our communities that many of us have felt for far too long."
"It was the image of the President, our President, the President of the United States Of America, peering out the window of an airplane, as the people on the ground were drowning, that hurt us the most. For centuries, our people have relentlessly tread water as hard as they could to stay afloat, and here we were, literally drowning, and it felt like the President was insensitive. There is no need to apologize, Kanye. You spoke from your heart and that is all we will ever ask from you," he writes. "Don't be afraid of the press, as your art is your blueprint, thanks to Jay-Z, your big brother, we will always carry our destiny in our own hands. You are are an artist whose art is masterful. You are a servant to this world who no matter how hard it gets, keeps on giving. Giving gifts that inspire us, challenge us and motivate us to be better family and friends.
What do you think of Russell's letter? Do you agree with what he said?