NEWS
Scandal Brews During 'Pettigrew' Screening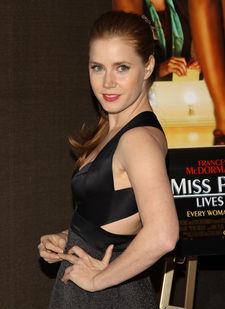 Amy Adams is the draw for the special screening of Miss Pettigrew Lives for a Day, which takes place at NYC's Tribeca Grand Hotel.
But the Narciso Rodriguez-clad redhead wearing a cutesy gold-and-black bow doles out a hug and saunters into the theater, snubbing print reporters. I certainly can't imagine why. I was going to ask her if she would record an album since she sings in the flick. Scary, right? Hmm. A fellow red carpet reporter fills me in. Apparently, PETA is picketing outside because Amy dons a fur in the film.
Article continues below advertisement
Morgan Freeman and his wife swan by, but Frances McDormand eschews press completely. "She's enjoying the night with her family," a rep tells me. Hmm, isn't it her movie? Isn't she supposed to be working — pimping her product?
Celebrity Apprentice star and former supermodel Carol Alt gives out her best financial advice. She urges couples to keep their personal bank accounts completely separate because she got burned in divorce court.
Here's Tom Payne, the Brit who plays Phil Goldman in the dramedy about two women who switch places in the 1930s.
"I was naked in bed during my first scene with Amy," he tells me. "I'm with Frances and Amy in this bed with only a small something to cover my decency, and that was hard. I had to leave out of bed and put my clothes on in front of these actresses I admire and respect. That was crazy. The sheets were silk, so there was a lot of sweat going on. It wasn't the most romantic, but it was great."
The lights begin to flash. Time to start the show.
Miss Pettigrew Lives for a Day is in theaters Friday.