NEWS
Scarlett Johansson: "I Can Get Down"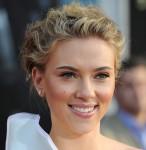 Just because you don't see pictures of Scarlett Johansson hanging in the clubs every night, it doesn't mean the low-key A-lister doesn't like to party.
"I can get down, don't get me wrong," Iron Man 2's Black Widow told Access Hollywood, adding: "I do — I go out occasionally."
OK! VIDEO: SCARLETT JOHANSSON'S IRON MAN 2 INTERVIEW
"I like to go out. I like to hear music and go out for dinners and stuff like that but I'm not really a party in the club kind of girl."
Article continues below advertisement
Scarlett, who's married to Ryan Reynolds, said she prefers to keep things more low profile in order to keep her personal life, personal.
OK! NEWS: ROBERT DOWNEY JR ON GWYNETH: "I COULDN'T GET HER OFF OF ME"
"You know, it's hard, particularly in this day and age, to kind of surprise your audience because they already know so much about you personally," she says. "So I try to avoid that kind of scene as much as possible."
Meanwhile, after starring as Natalie Romanova, the sexy secret agent in Robert Downey Jr's superhero movie, she leaves the door open for a potential spin-off.
OK! NEWS: SCARLETT JOHANSSON'S SECRET WEDDING WAS LIKE "A DRUG DEAL"
"These movies are very fan driven so if the fans like my interpretation of the character, I would be happy to don the cat suit again and, you know, carry the torch," she said of a possible solo movie.
MORE ON:
Scarlett Johansson
Article continues below advertisement
"But there is no plan for anything like that. I know that Marvel is very behind this character so I'm keeping my fingers crossed."
OK! NEWS: RYAN REYNOLDS IS THE FRESH FACE OF HUGO BOSS FRAGRANCE
In the meantime, what does Scarlett think of her role along with Gwyneth Paltrow's super-efficient character Pepper Potts?
"These characters are strong, independent women that could function with or without the men in their lives," Scarlett says.
OK! NEWS: GWYNETH PALTROW IS AN "UNUSUAL MOM"
"They run a smooth, efficient operation and are at the head of their game and I really attribute that to Jon Favreau's appreciation for a strong lady.
"It's very exciting to be that kind of role model for young girls and for women to see that you don't have to be the damsel in distress," she continued. "You can actually kick some a** and look fabulous doing it."